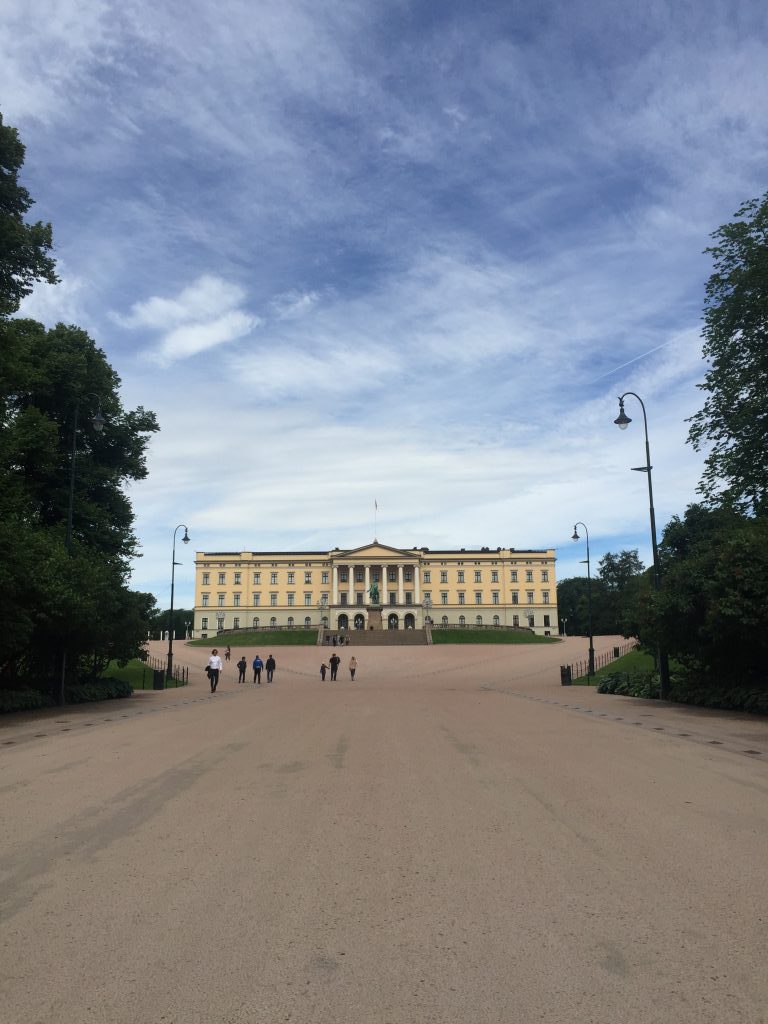 Scandinavia is fairly uncharted territory for me. Prior to a few weekends ago, I've not been further north on this planet than
Edinburgh, Scotland
. When my friends wanted to visit Oslo, and asked me to join them, I could not pass up this exciting opportunity to reconnect with some of my oldest friends, and explore a new place with them. I am still astounded that this beautiful country, as rich and ancient as it is, feels fairly unscathed by humanity. It is home to incredible history, gorgeous
fjords
 and breathtaking landscape, culture
AND
 the Norwegians are known for their affinity with basic human rights! 
Norway
has been described to me by various people as 'very Northern European', 'impressive', 'cold' and 'expensive'. Needless to say, I have also arrived at some of the same conclusions, but I've discovered much, much more.
Here is a photo journal of my travels: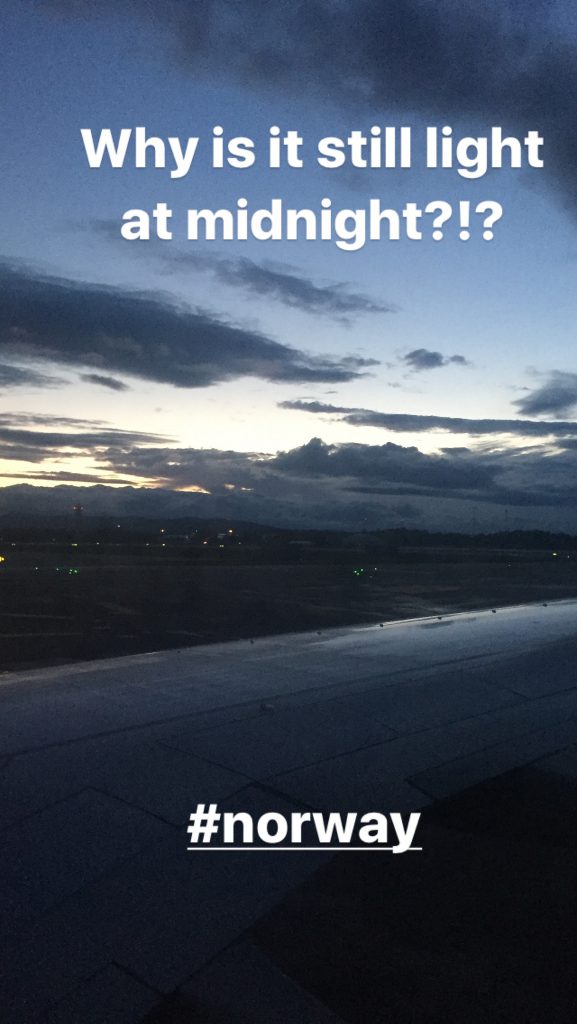 When I landed on the Friday night, it was already past 11 pm. The photo doesn't do it much justice, however I was taken aback by how LIGHT it was outside. I was on the train around midnight, and the sky was still a blue colour. After moving to England, I realized how much daylight the northern countries get during the summer months, but I've never seen it not be night at night. My visit coincided around the first day of Summer, so unsurprisingly, I was witnessing the longest day of the year in one of the more northern countries of the world!
I got to our Airbnb and my two friends were already there and asleep. We had a very busy day ahead of us, so I tried to sleep, even though it was very hot in the room.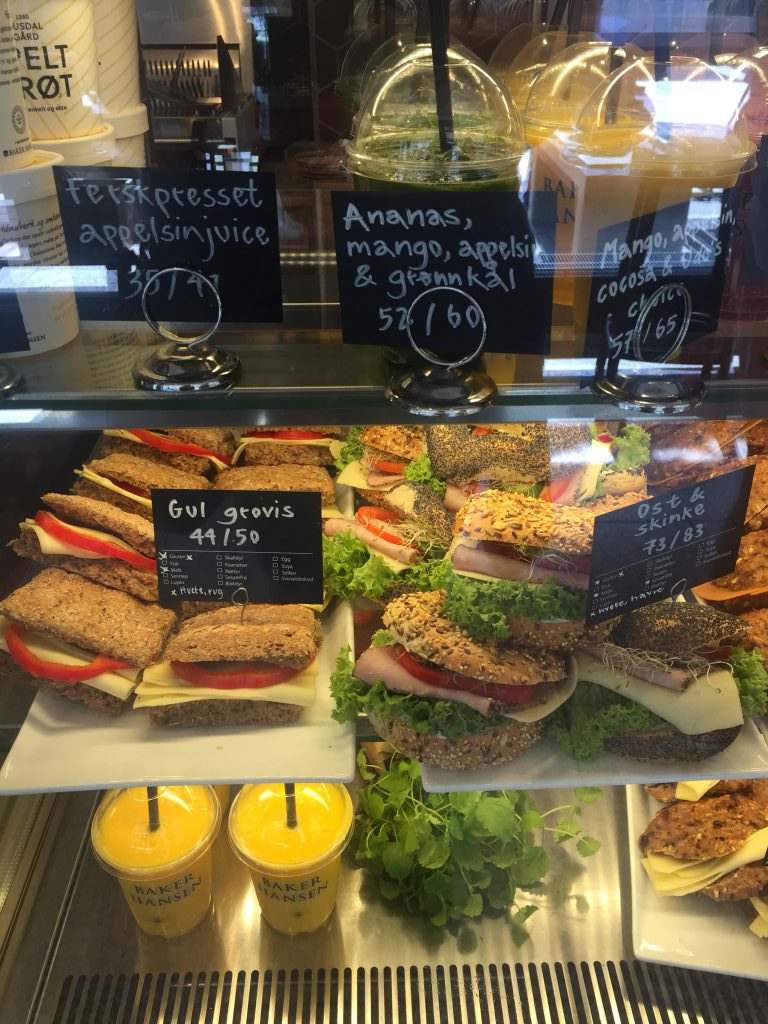 The next morning, we were STARVING. After getting ourselves sorted, we wandered around the Nationaltheatret (National Theatre) Area in search of some breakfast. Essentially, we decided on what we were going to eat based on which cafe we saw first. We chose Baker Hansen and we were not disappointed. They have a wide selection of breakfast cakes, desserts and breads. Since pretty much the three of us are gluten-free (when we can be), we were surprised at the variety of gluten-free options they had. Apparently, Scandinavia has one of the highest percentage of gluten-intolerance in the world, so it's really easy to find options for people who can't or choose not to eat gluten.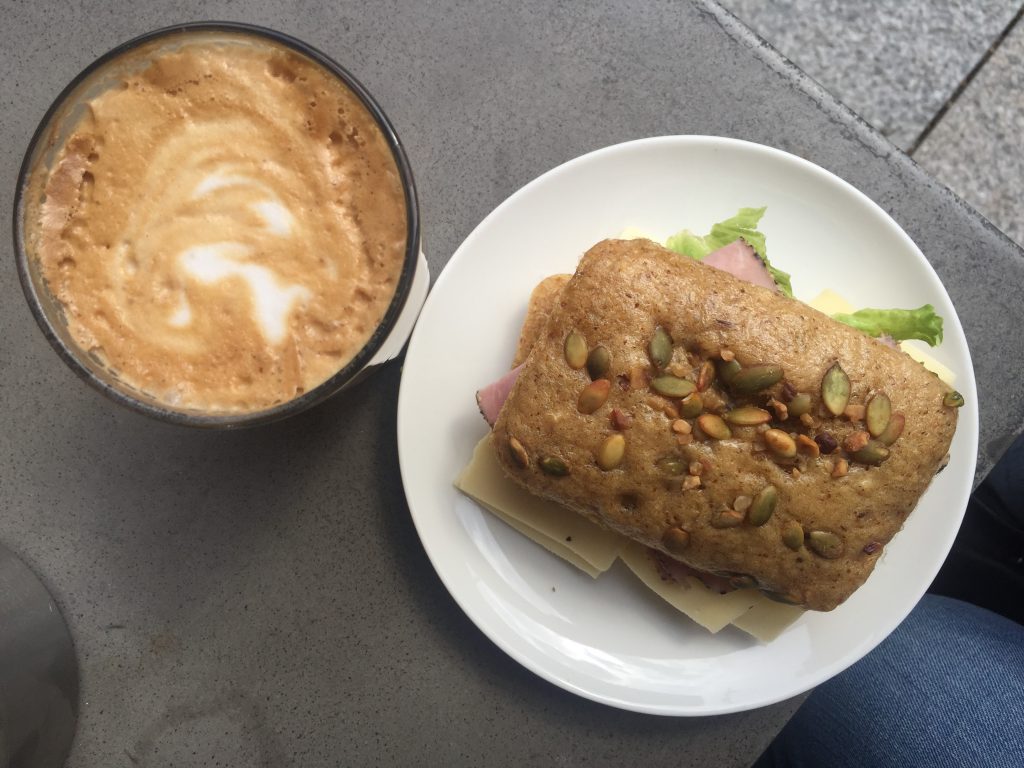 I opted for a yummy latte with a ham and cheese sandwich on this delicious bread. I hadn't had bread in ages, so it was a nice treat.
After finishing our breakfast, it was time to explore Oslo. We wanted to see the peninsula part of Oslo (
Bygdøy
) and check out some of the museums. We boarded up on a ferry and travelled by water to get to where we wanted to go.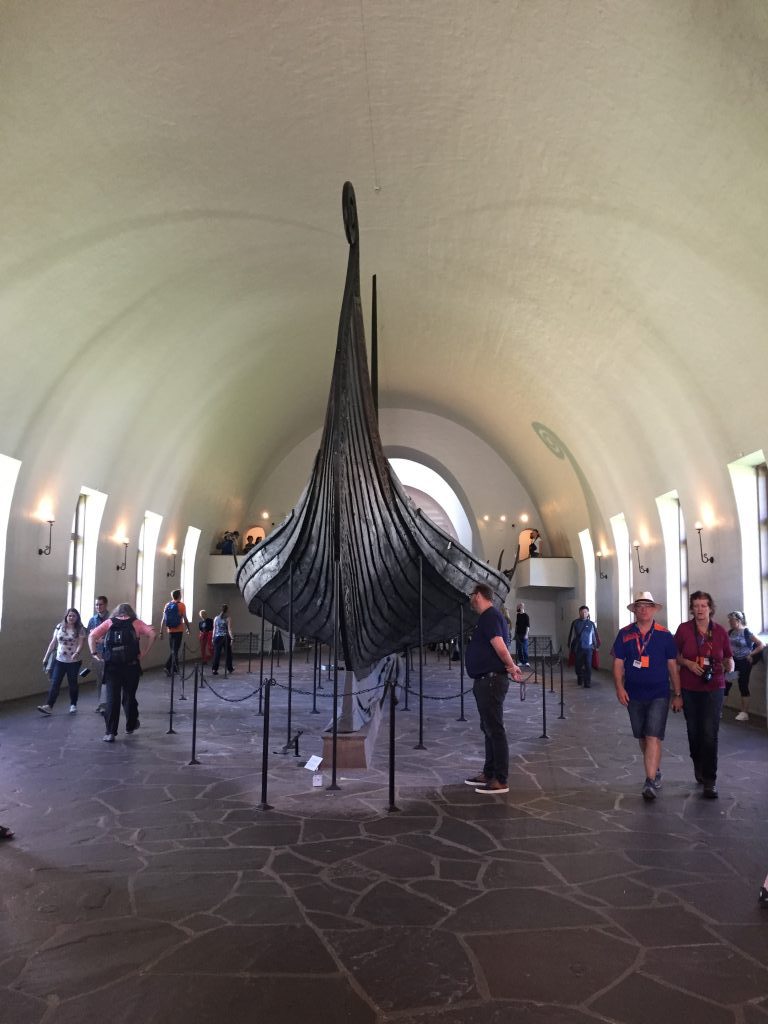 Since we had only a day in Oslo, we decided it would be best to not spend money or much time on the museums. We stepped in to the Viking Ship museum because I am really into Viking history. I snapped a photo of a 9th century Viking ship, and even though I was from the 'unpaid' vantage point, I still feel like I got a good sense of what it looked like. This ship is apparently one of the best preserved viking ships found!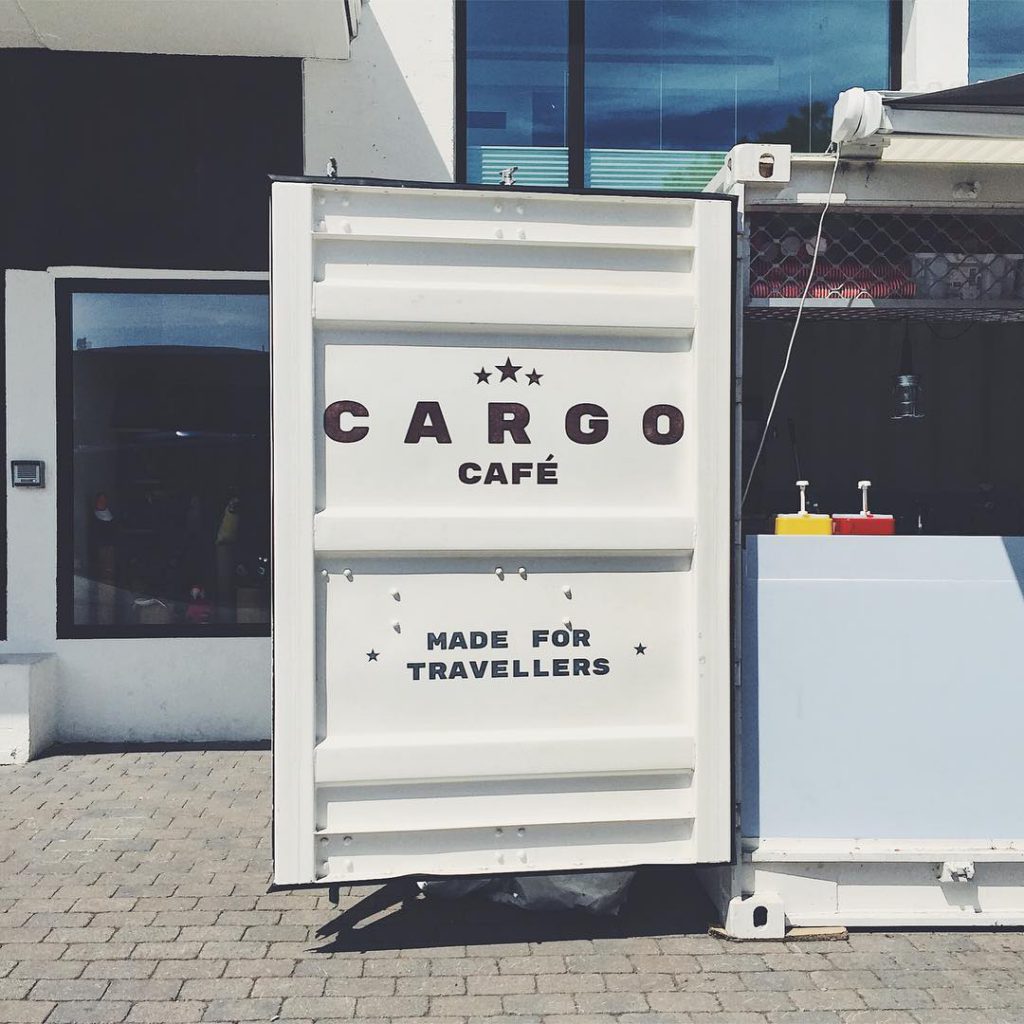 After the Viking Ship Museum stop, we ventured around more of this neighborhood. I saw this cute little coffee truck near the Kon-Tiki Museum. The Kon-Tiki museum follows the adventures of one of Norway's most famous explorers. Thor Heyerdahl is famous for crossing the Pacific Ocean on a Kon-Tiki raft but also for numerous archeological excavations around the world.
After walking around the museum grounds, we wanted to check out the beach/natural park nearby. There is a large grassy area perfect for walking and picnicking. If you continue walking through Huk, you will arrive at the sandy beach area, and possibly come across some nudists.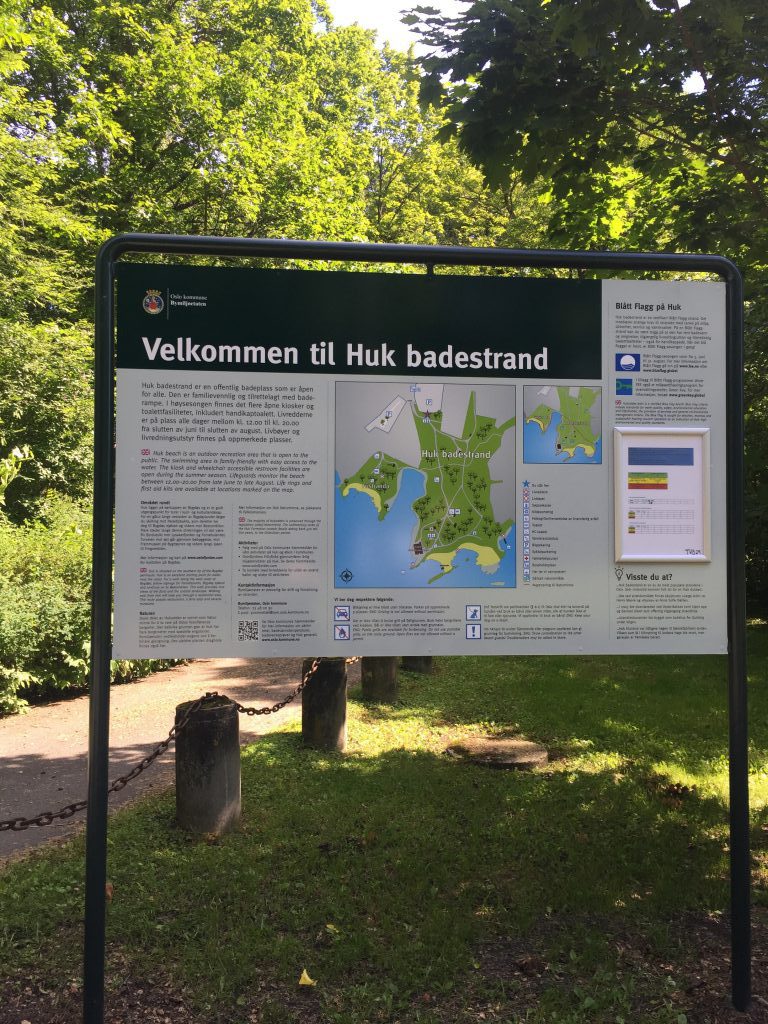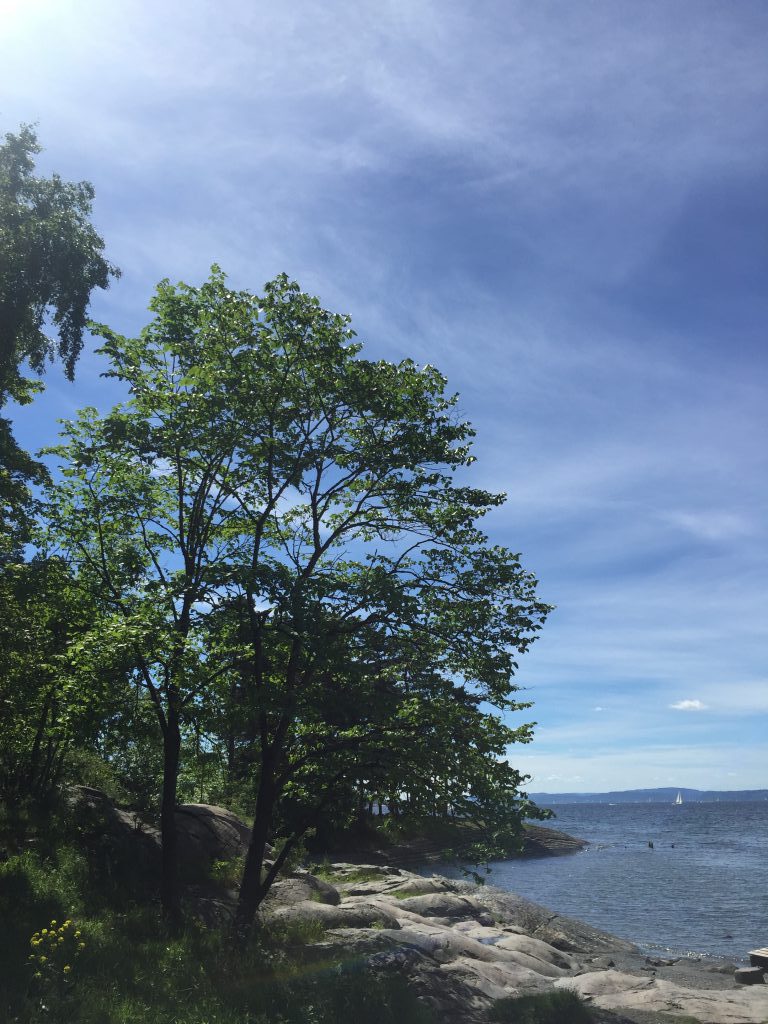 If I was to take a panorama, on the right of this image, you would have been in for a real treat. It was a nudist beach. I strategically avoided that area whilst taking this photo, but it is very clear that Norwegians live by a 'carpe diem' mentality. At least, they do when it's a sunny day.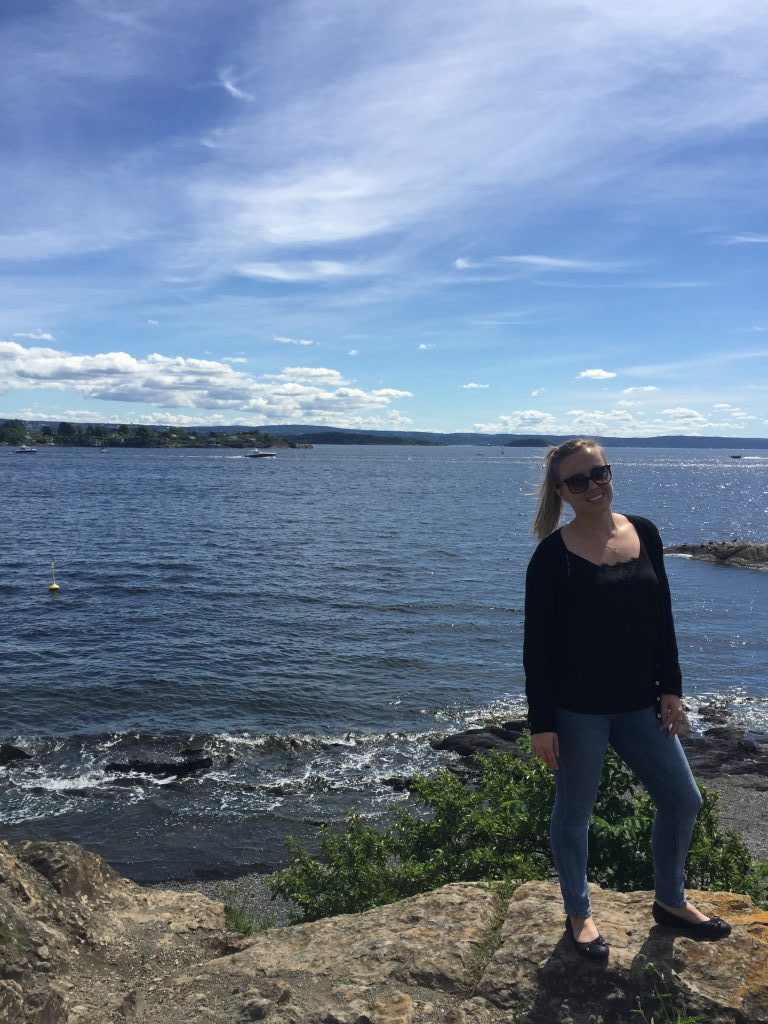 Around the rocky part of the beach, children were having the time of their lives. We all stopped to reflect what a nice childhood they must have, and what fun memories they were creating. These little girls were laughing and jumping into the water from their slippy-slide, with no care in the world. I can just imagine how fondly they will reflect on those moments. It was just so refreshing to see so many locals soaking up the sun and enjoying life.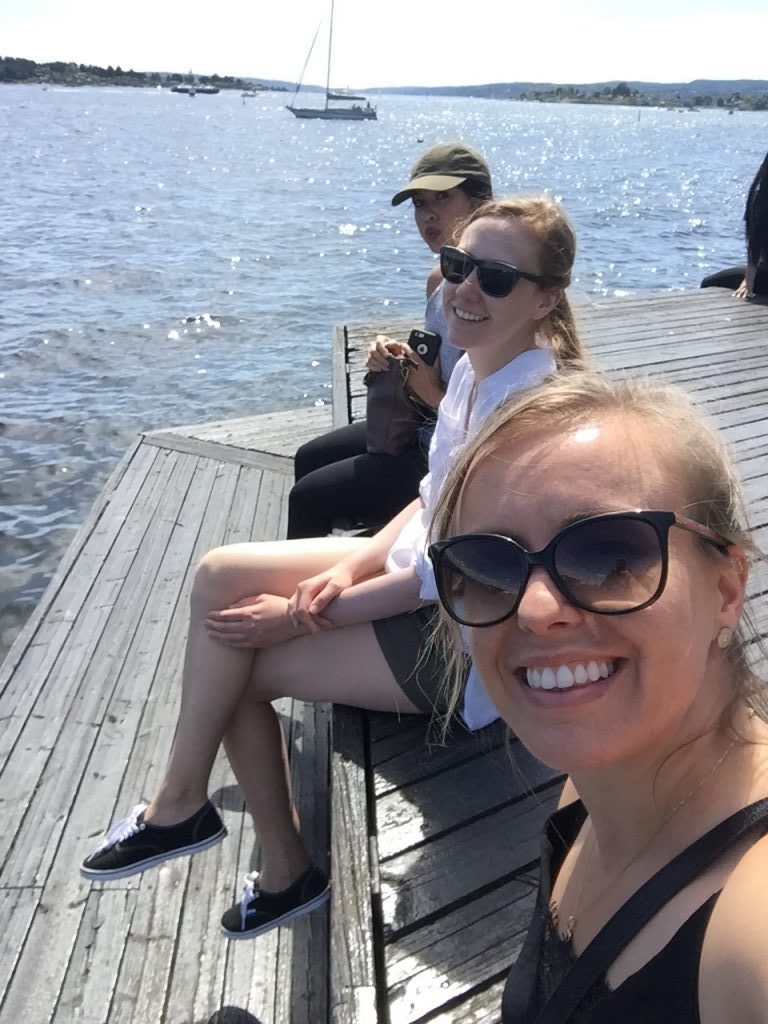 We took advantage of the beautiful day too. Since two of us live in England, where sunny weather is not always a guarantee, it was nice to just sit by the water and relax, whilst working on our tans. We watched the boats float by and just took in all the beautiful Norwegian Landscape.
After regaining the will to walk more, we took our ferry back to the city centre to explore more of the other neighborhoods.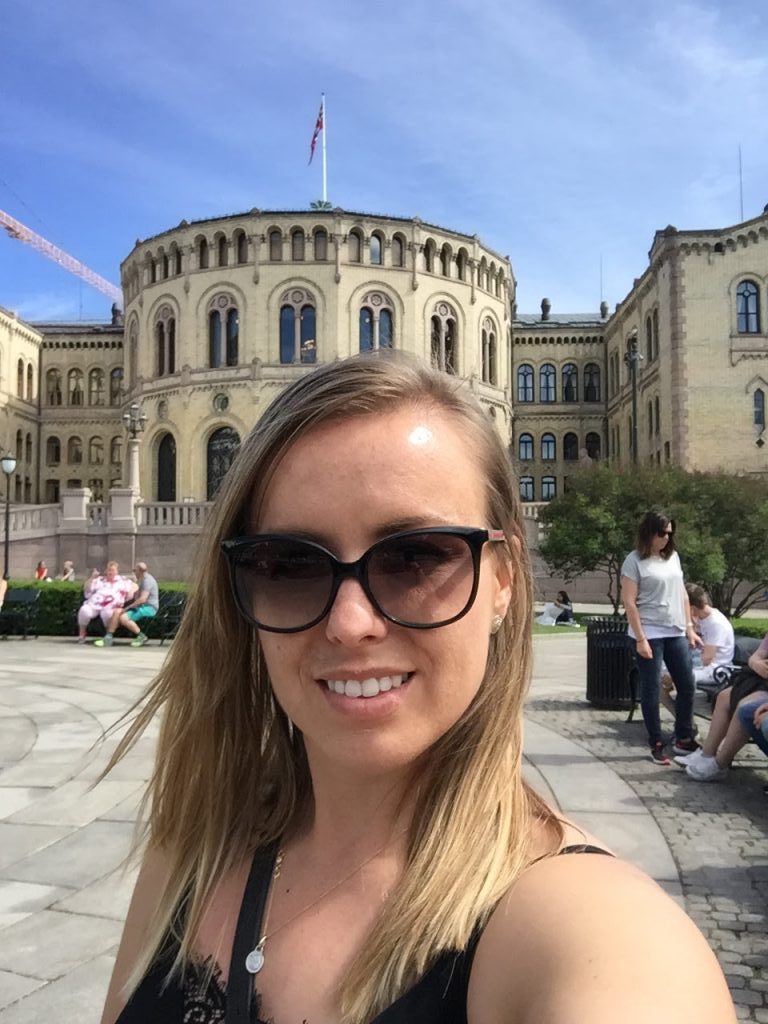 [Me, in front of the Parliament building]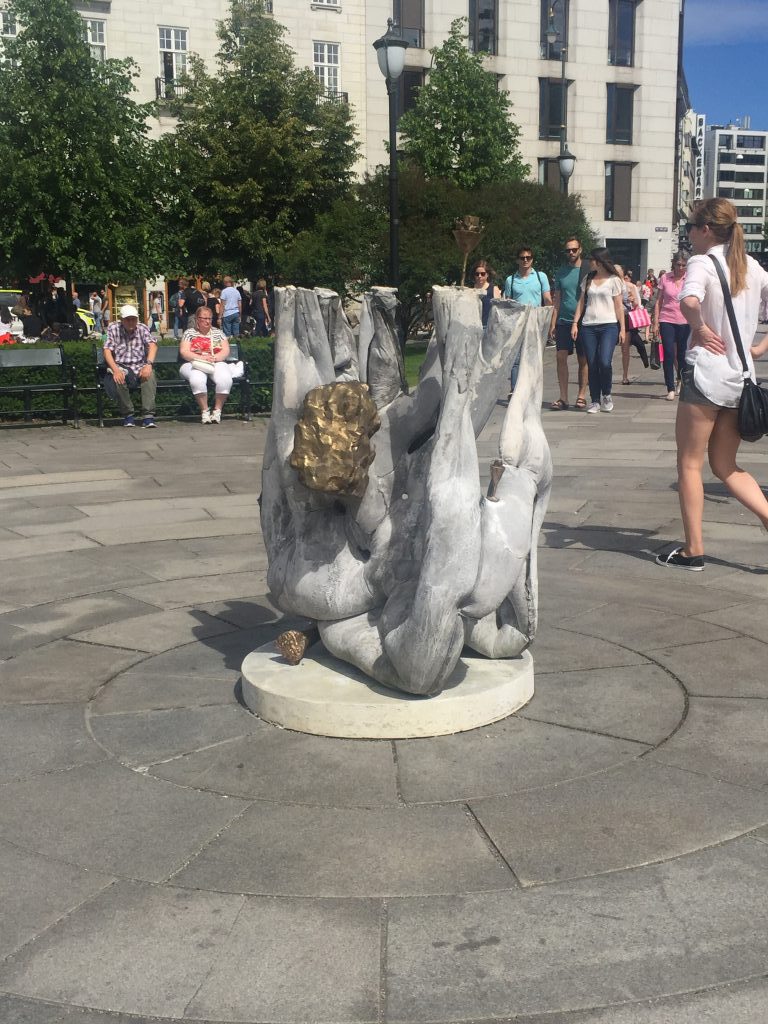 Lunchtime was rolling around and we were all getting peckish. We hadn't selected a restaurant previously because we wanted to just 'go with the flow' and have the freedom to stumble upon interesting looking locales. Thankfully, one of my friends, C, had done a bit of research into the different neighborhoods in Oslo. We decided that
Grünerløkka
, a hipster/modern neighborhood, was the direction we wanted to walk towards. As we walked through the beautiful city streets, we quickly learned that this was a good choice!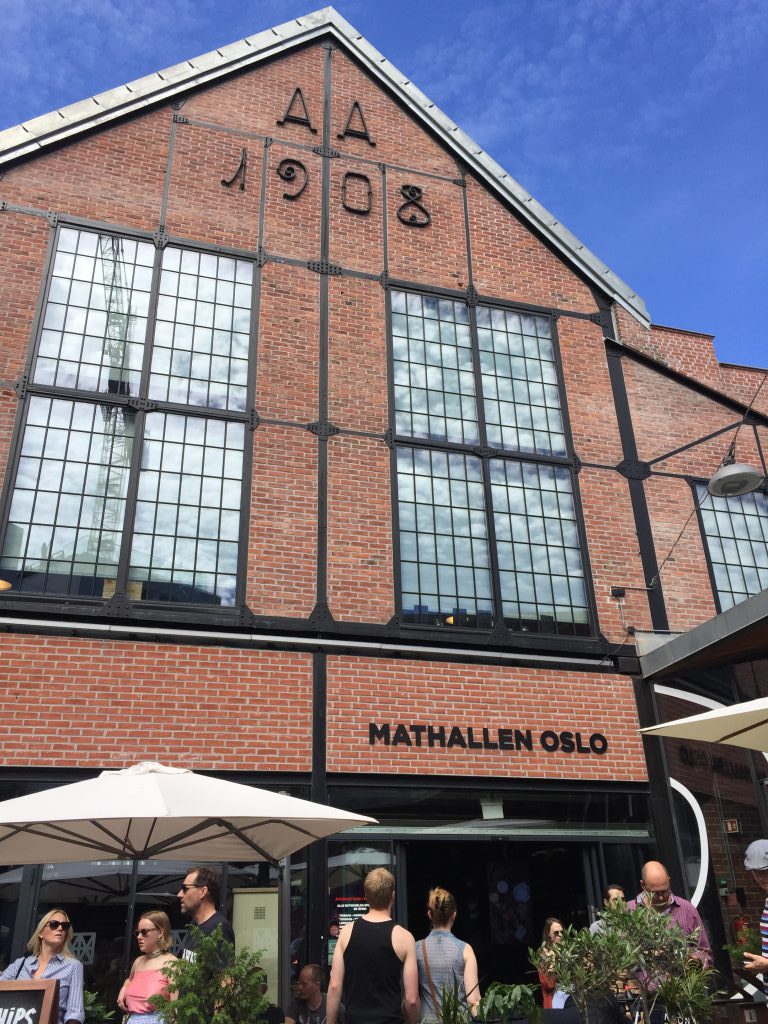 We accidentally arrived at the
Mathallen Oslo
Food Hall. Food-wise, there were so many options to choose from! You could do your typical market shopping and buy your meat, cheese, fruit, or whatever. Or you could sit down at any of their restaurants, ranging from Scandinavian cuisine to Tapas.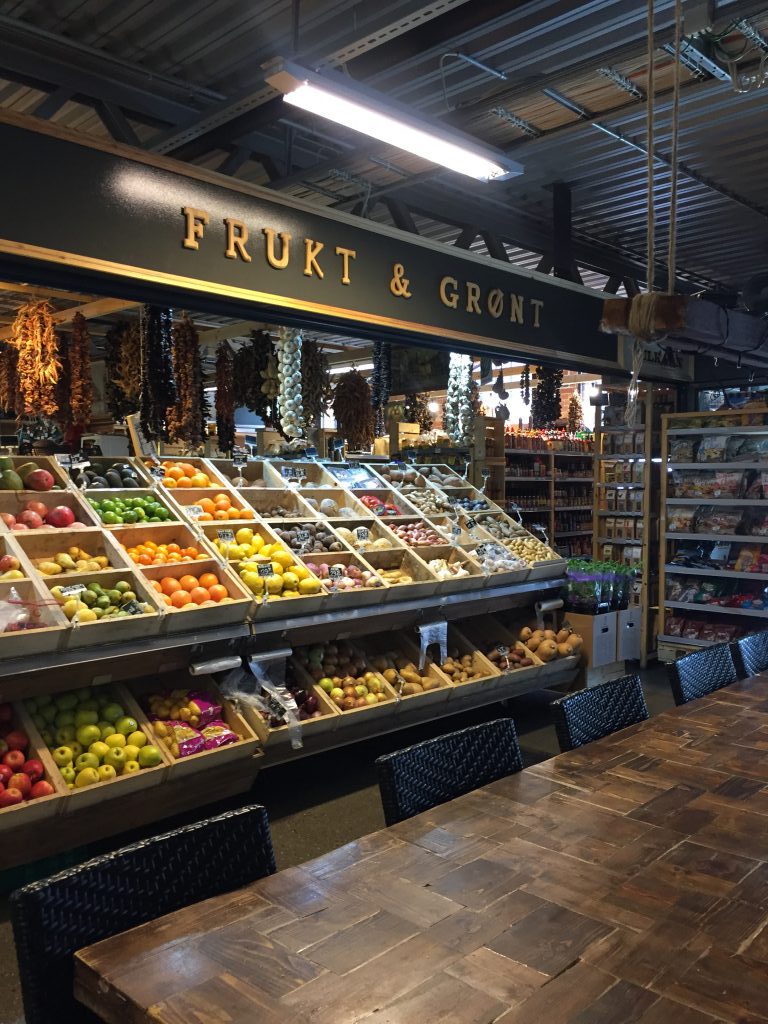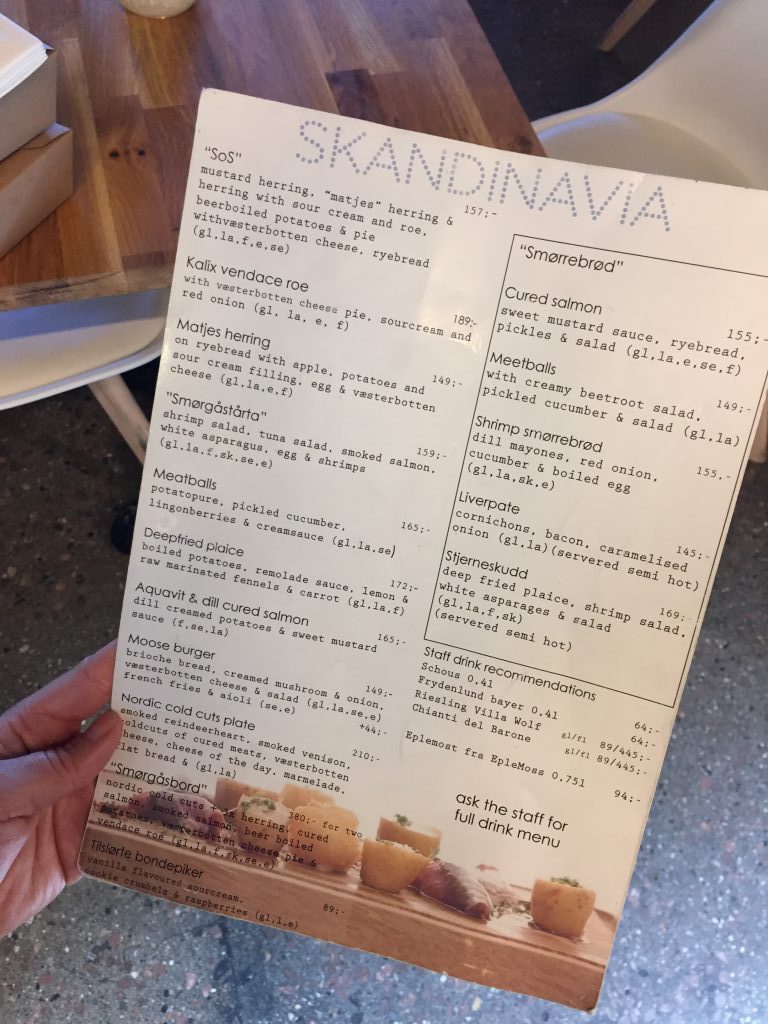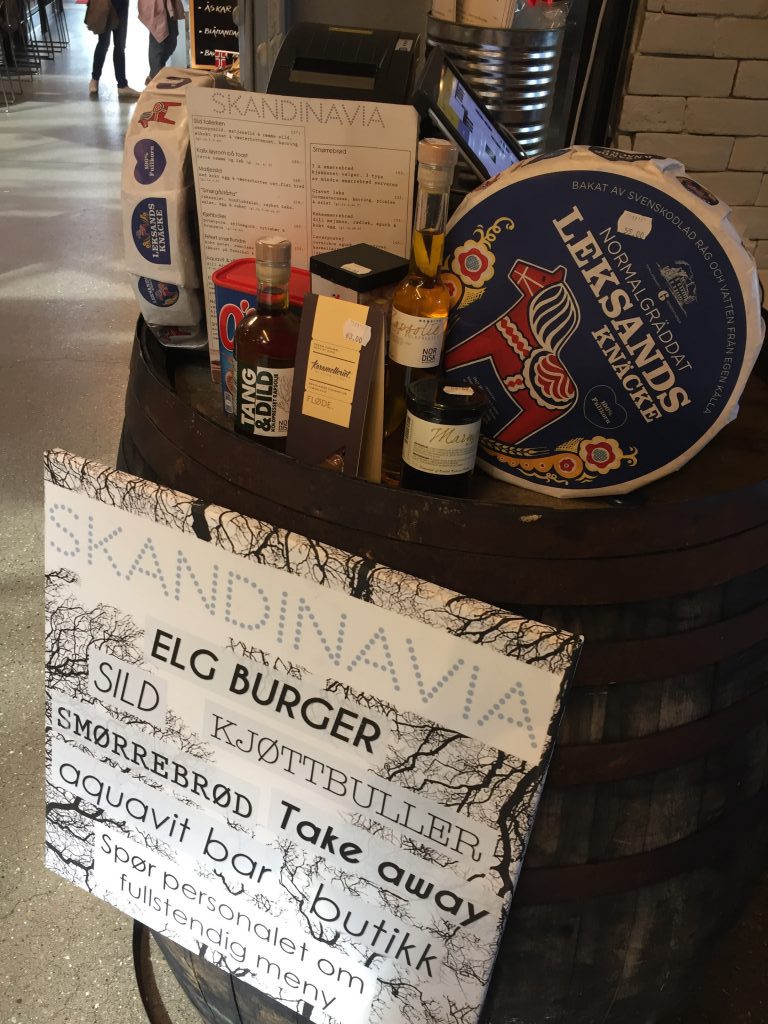 I opted for the restaurant 
Skandinavia
 and chose their Elk Burger without a bun, and some fries. It was really delicious but also quite expensive. Was it worth it? Every last bite!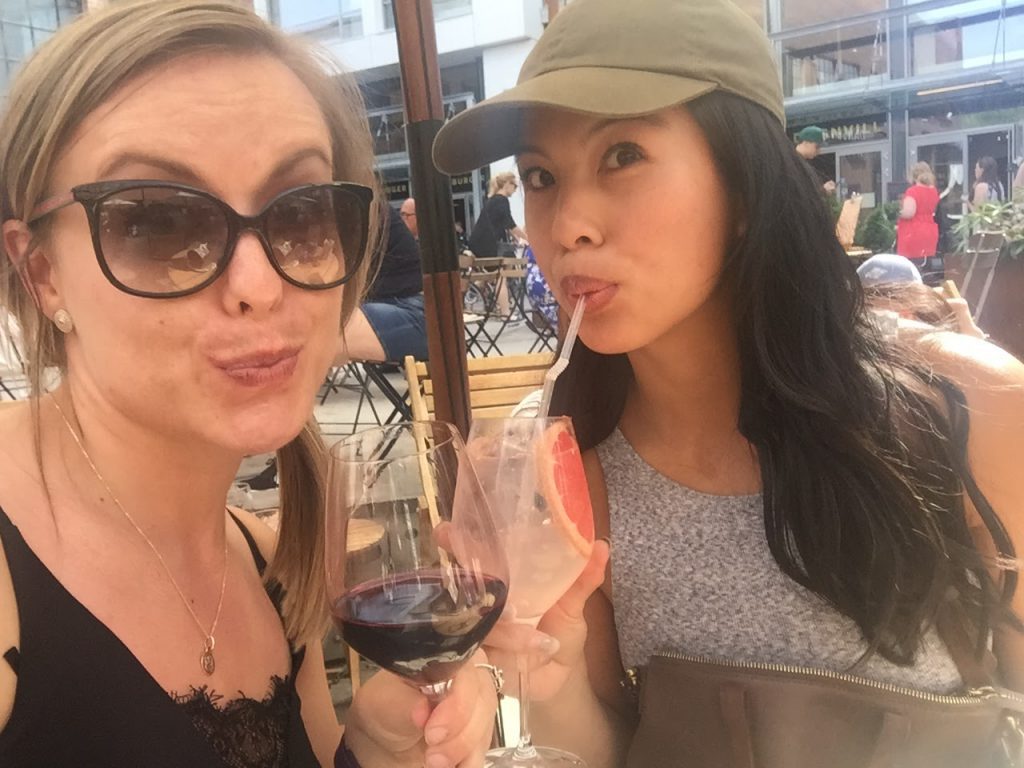 One of the cool things about this bar at the food hall was that you could buy your food from whatever restaurant you wanted, and buy your drink from the bar. Since we are three people with very different tastes and likes, it was perfect because we could each choose the food we wanted, but eat it together and drink together!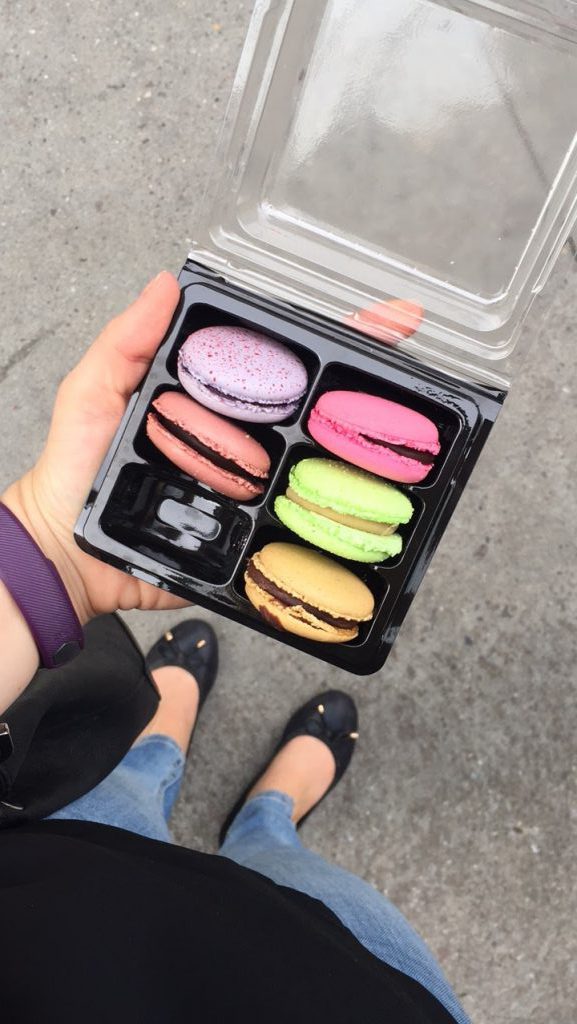 Although I was trying to eat as paleo or at least as gluten-free as possible, I really couldn't resist buying these macarons. There was even a champagne flavor! I think my favorite was the blueberry.
Oslo is surprisingly full of flowers – flower shops and gardens line the streets and parks. One of our next stops was the
botanic gardens
in Oslo.  It was another one of our random finds. The gardens were such a nice experience. I took SO many photos, that I will probably have to do another post about it. They have over 1800 plant species, and just pretty gardens to walk through.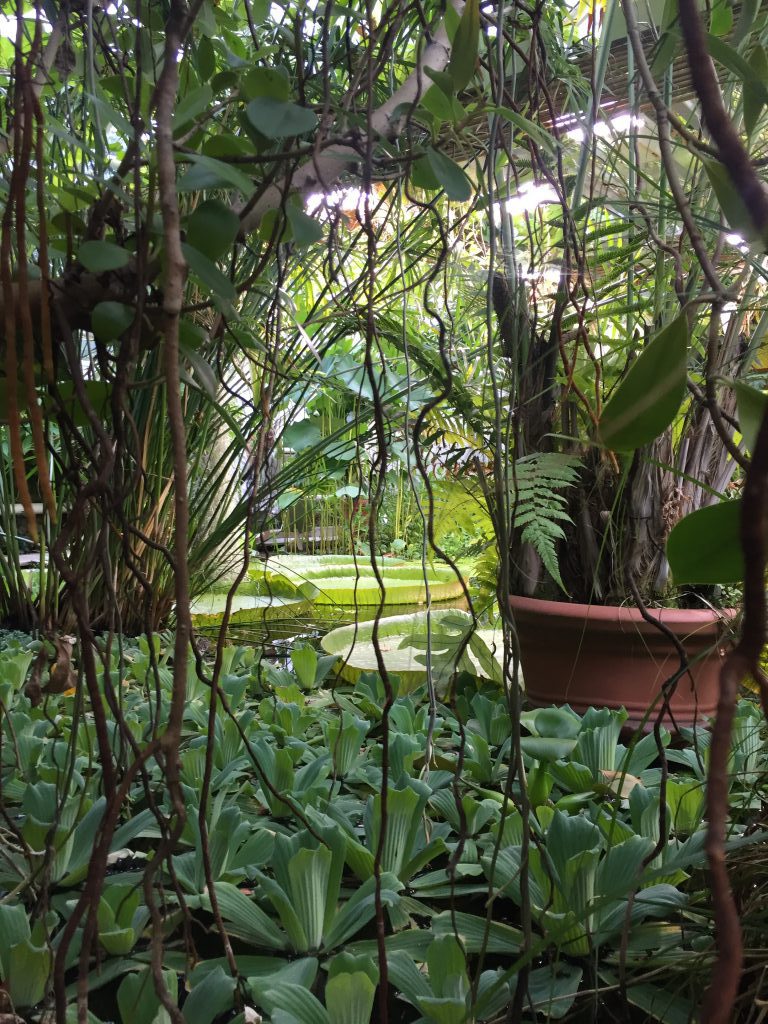 After flooding
Instagram
with all of my flower photos, we decided we had enough of gardens, and that we wanted to see more of the city.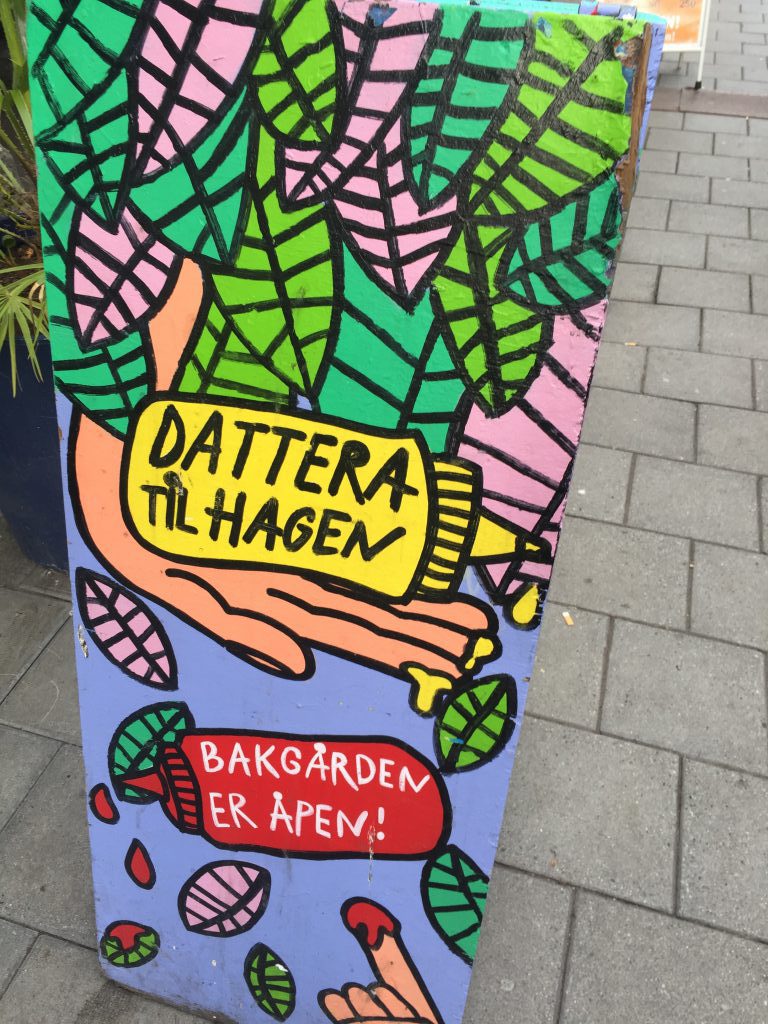 Another random but cool find was the
Dattera Til Hagen
bar with the coolest back garden. They had fun, colorful murals and decorations. We couldn't help ourselves and had to stage a 15 min selfie photoshoot next to the wall.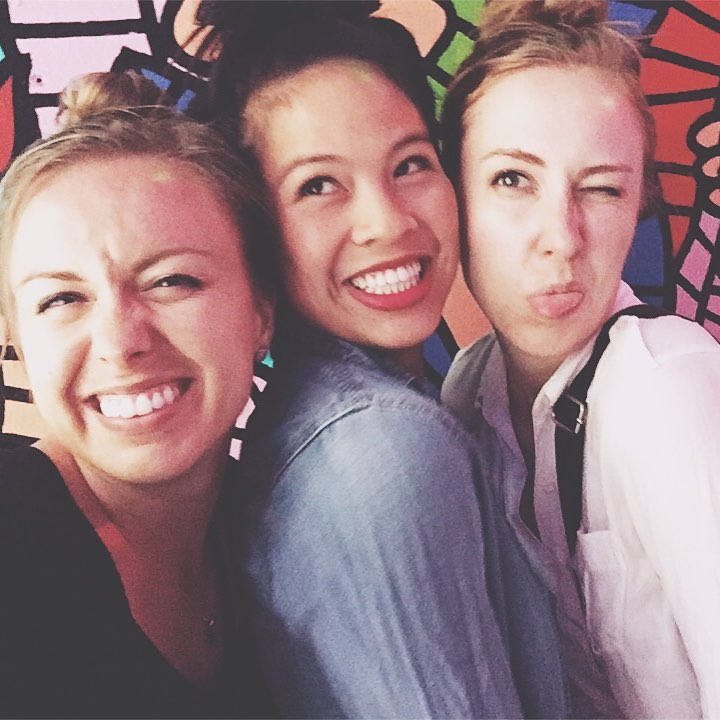 As you can tell, I got sunburned. IN NORWAY. Oslo is not the most tropical of places. However, my pale skin is not used to all of this UV radiation. So, I burned. This light apple cider was the perfect way to cool off and take in the fun, Oslo atmosphere.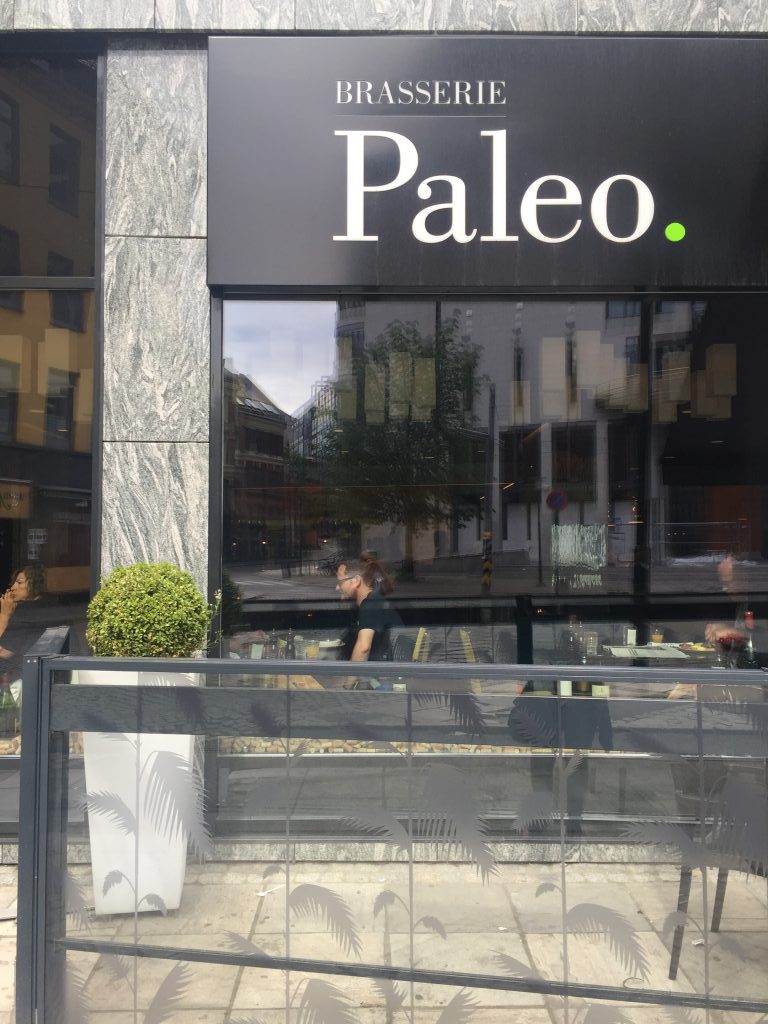 We had dinner (and breakfast the next day) at this fabulous restaurant called
Brasserie Paleo
. This deserves it's own post as well, so I will go into it later!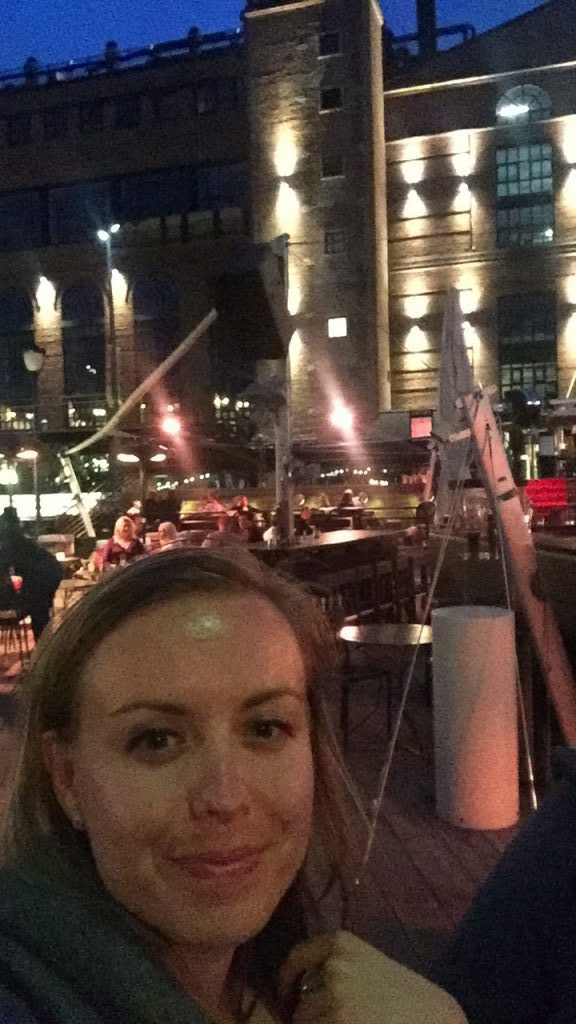 After the long day of walking, we were spent. I think I had 30k+ steps on my fitbit that day. I was exhausted because I didn't have much sleep, as well as quite a bit of alcohol. Our final stop for the day was an outdoors bar near the boardwalk. The photo was a bit blurry because of the lighting, but I was definitely in my happy place. I can't even remember the name of the bar or where it is exactly, but it was so cute! They had blankets for everyone, so I snuggled up with my gin and tonic and my blanket and just chilled. It was the perfect end to a perfect day.
The next morning, we only had a few hours before I had to catch my train back to the airport. We brunched (the most amazing food) at Brasserie Paleo and then walked around the city centre a little bit more.
The final stop of my trip was the
Royal Palace of Oslo
. It was very pretty and the official residence of the royal family of Norway. I thought that it was very cool that we could get so close to the building. In London, you can't get very close to Buckingham Palace because of the guards and fences.
Apparently, Norwegians are just very chill people, which was something that really comes across in all aspects of their culture. Oslo is very clean and tidy, and for a big city, it's fairly quiet. Coming from the UK and my dealings with the rowdy Brits (especially on a Saturday night), this was a bit of a culture shock. Where were the bar fights? Where were the loud talkers at the restaurants? I didn't see them anywhere!
I had a an AMAZING time in Oslo. It was so amazing to be able to reconnect with some of my high school friends in a foreign country. We all live in different parts of the world, and it just goes to show how small our world is nowadays, that we can all meet up and explore a new place together!
Have you ever been to Scandinavia or even just Oslo? What did you find interesting about their culture?