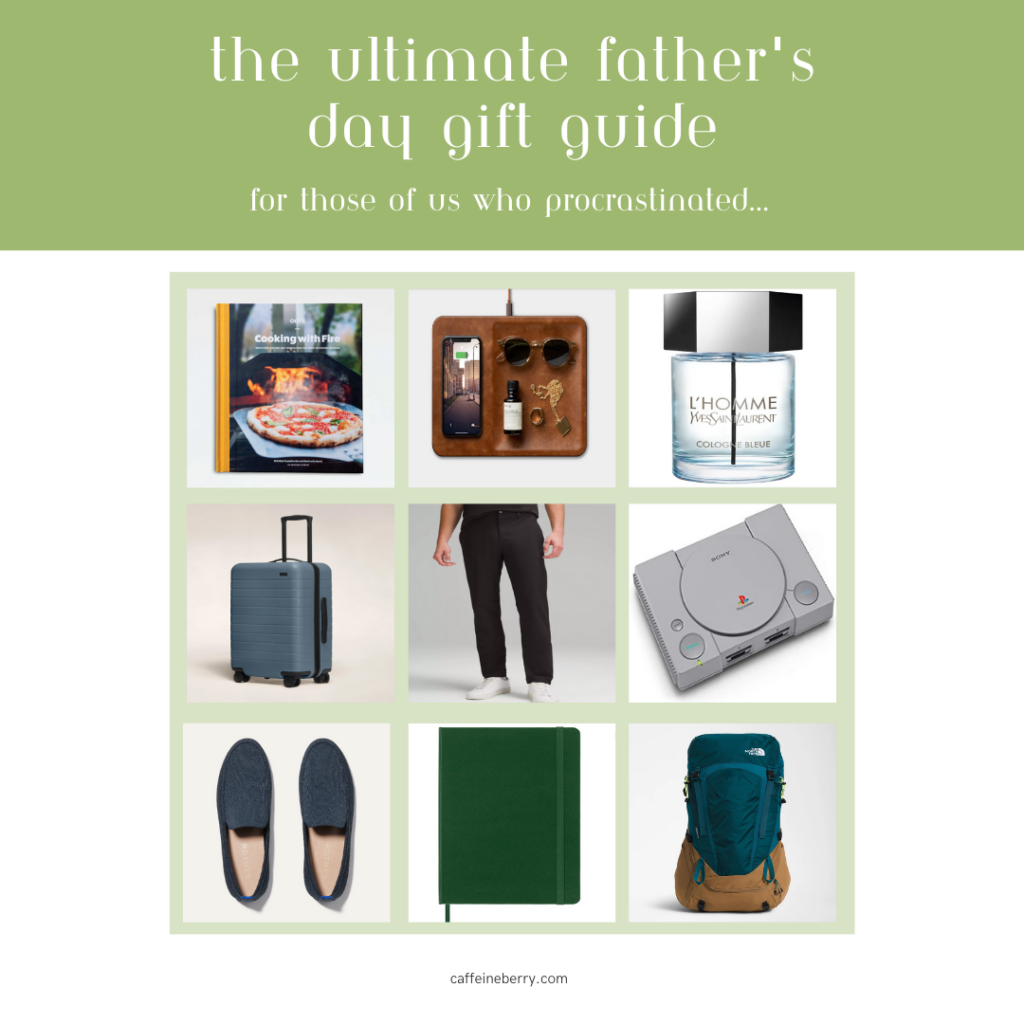 Father's Day is approaching! I put together this pretty comprehensive gift guide in case you need some ideas of gifts you can get for the father or father-like figures in your life. There are gifts for the coffee lover, the bookworm, techy-types, some pretty cool kitchen and travel stuff, as well as some fun gifts for the road warriors. Read on for more!!
Please note that I can earn a small commission at no added cost to you if you decide to purchase any one of my suggestions!
the coffee snob
The coffee snob is the dad who can be super particular about everything related to coffee. He is the person that will weigh out exactly how much coffee to add, only grind his gourmet coffee beans instead of buying them already ground, and will only use the finest accessories for his favorite morning ritual. God forbid you mention that you like McDonald's coffee to him…
the athlete
This dad probably played multiple sports in high school and will tell you about his 'glory days' all the time. He cares about staying active, and needs all the right accessories to make sure he can keep doing the things he loves, even as he gets older!

the bookworm
The bookworm dad is someone who you will find in his glasses, sitting in his favorite chair with a drink in one hand and a book in the other. He likes to get lost in a good history book or learn something new, and still prefers paper books to e-books, although maybe he will consider audiobooks for his drive to work!

captain gadget
This dad loves his toys and is not scared of changing technology, but rather, embraces it. At the same time, he can be nostalgic for some of the techy things of his past!

stylish stud
This dad cares about his appearance and loves to look effortlessly put together, without sacrificing style. He loves good cologne, loafers, polos, and comfy trousers.
the head chef
Head Chef Dad loves spending time in the kitchen. He loves to learn new recipes, try new flavors, and entertain! He is a mean machine on the grill but is now venturing into other areas, such as making pizza and bread from scratch…
the mountain lover
This Dad will disappear into the wilderness any chance he is able to! Whether he hikes, hunts, camps, or all of the above, he probably has all the gear, but a good upgrade is always welcome!
the adventurer
The road warrior/adventurer Dad is always hopping from city to city. He likely values comfort, but not entirely at the cost of style.