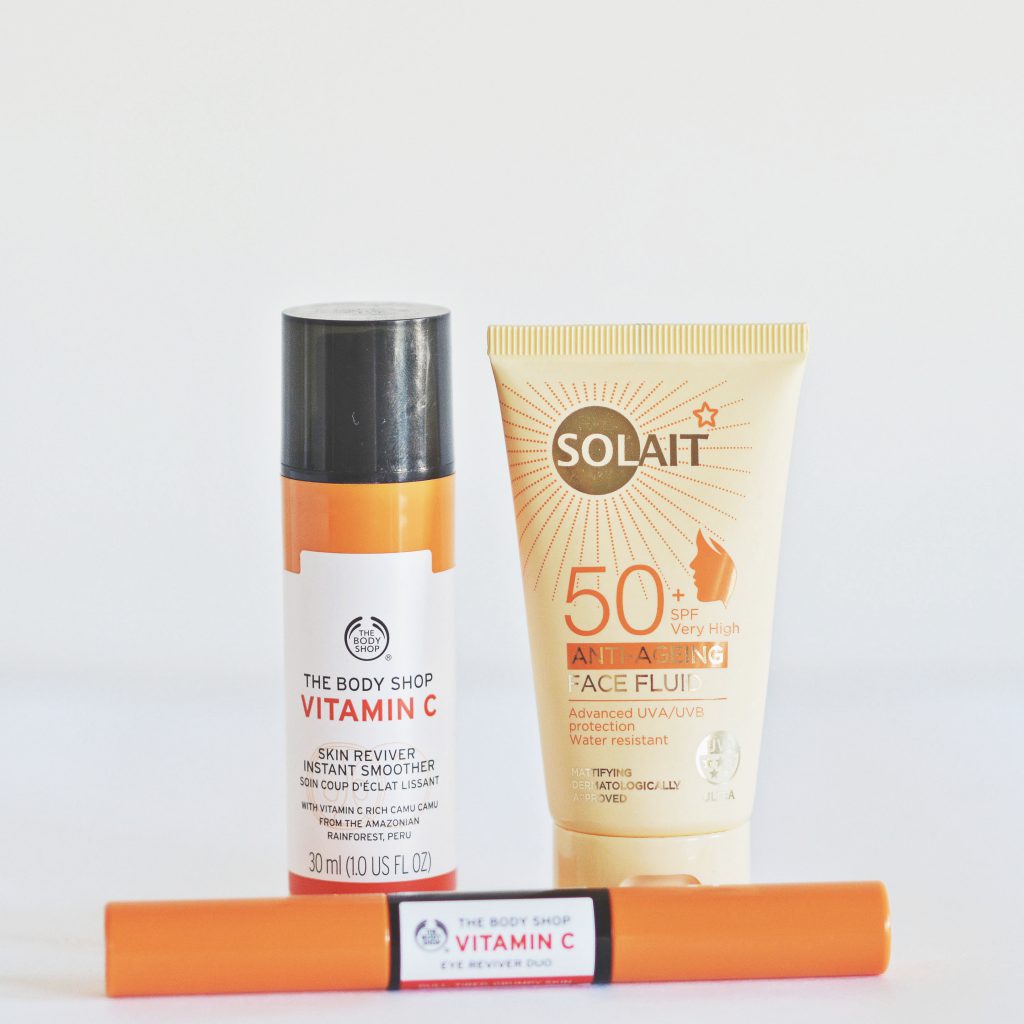 Summer is literally here. Literally. I am so excited for all the future hours spent sunbathing on the beach, palm trees, relaxing, drinking sangrias and swimming in the Mediterranean (not in any particular order). Even though I tan easily, I know my skin is going to take a beating if I don't take the necessary precautions to repair and protect it. This year, I've especially noticed a change in my skin. That's why the last three months or so, I've been using the Solait 50 SPF sunscreen, and The Vitamin C reviver line from The Body Shop to try and reverse (and prevent) some of that UV damage my skin has collected over the last 28 years.
My reviews so far:
1. Solait 50 SPF Anti-Aging Face Fluid (£3.49) – This was an unexpected find at Superdrug. I was in there for some other necessities, and I picked up this tube of sunscreen. It was very inexpensive, so I thought I'd give it a try. Recently, I've had some discoloration on my left temple, probably due to some medication I was taking and combining it with sun exposure. This actually made me realize how sensitive my skin is, especially in the areas where it's very thin. I wanted to protect it with a higher SPF. While technically, a higher SPF than 30 doesn't always mean more protection, I wanted to be safe, rather than sorry. For the price, this has been my best beauty find this year. It doesn't make my skin break out (any more than it already has) and it's great at protecting it. I feel like even when it's the only product I wear under my makeup, it still makes a difference to my skin texture and quality. Also, I'm 28, so anti-ageing is something that is slowly starting to creep into my vocabulary.
2. Vitamin C Skin Reviver (£17) – After explaining my skin discoloration/hyper-pigmentation to a friend, she reminded me that Vitamin C is great for treating UV damage. Overall, Vitamin C helps repair and rejuvenate skin, so I'm trying to not only CONSUME more in my diet, but apply some directly to the areas that need a bit more care. I had previously used a Vitamin C sunscreen from The Body Shop and loved it, so I thought I would give this a try. The skin reviver has such a nice smell and is so smooth when it goes on. I usually put it on first thing after washing my face, and then I go about my morning routine to let it set in. I have noticed that my discoloration seems to be fading, so I'll probably stick with this routine!
3. Vitamin C Eye Reviver Duo (£15) – Since I am a bit of a night owl, dark circles under my eyes are not something I'm unfamiliar with. I frequently get "You look tired today" from people (thanks, btw). Since this summer is all about self improvement, self care and loads of other 'self' related stuff, I added the dark circles on to my list of things to improve. Vitamin C apparently helps revive/energize skin, so I figured I'd try it and see if this makes me look more chipper and alive. I personally have noticed a difference and the 'tired' comments have dwindled, so I'm taking it as a positive sign.

What are your summer beauty hacks? Are there any products that have changed your skin/complexion??