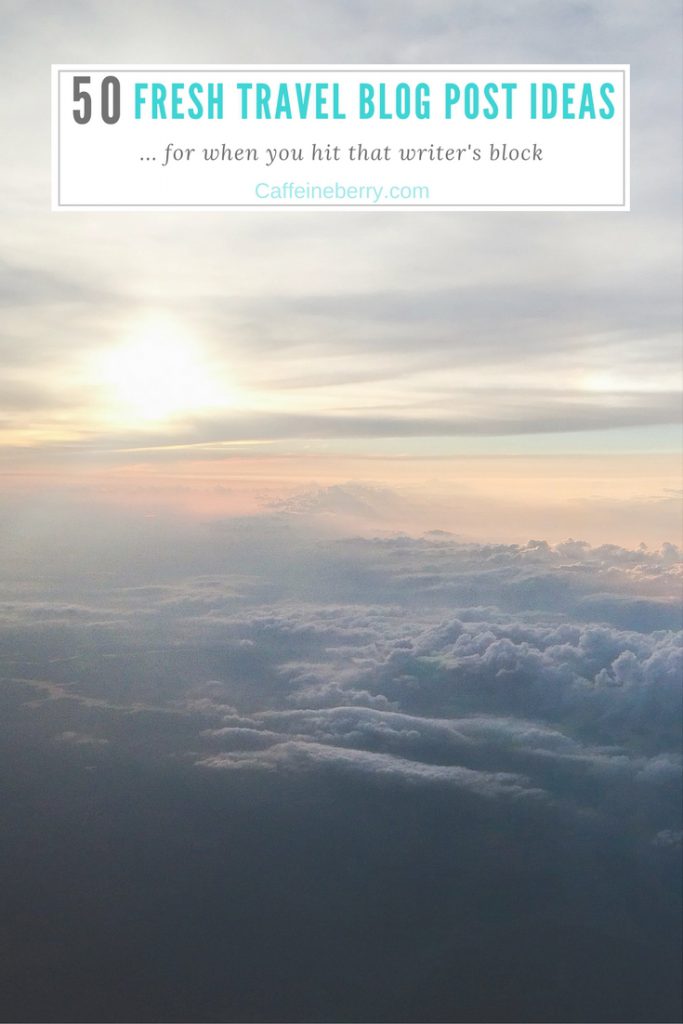 Do you have a lifestyle or travel blog? Mine is a bit of both. Traveling and writing about it is one of my favorite things to do. I love to relive those precious moments I've spent traveling over again by immortalizing them in my blog, and writing really helps me to de-stress. However, no matter how passionate you can be about something, you probably will get writer's block at some point. Fear not, dear friends. I've come up with 50 travel blog post ideas, for when you (and I) get a case of writer's-block-itis. It's a thing, trust me.
While I don't have the luxury to travel for long periods of times or very often, I do still fit it in quite a bit. My blog isn't purely a travel blog but a few of my blog posts are full of food and sight-seeing. While that's perfectly fine, I decided to have a little brain-storming session for more ideas. Feel free to add your own in the comments!
And now, without further ado.. 
Write about the coffee culture of where you're visiting
How do local women dress?
How do local men dress?
Describe one local tradition that stands out to you
Interview with a local
Where is the best bar in town?
Where do the locals go out?
Rate the local desserts you've tried
Photo diary of your day
How to pack for visiting (country)
Hacks for getting by in (country) – include emergency numbers, customs and other useful information 
How do they treat their pets?
What's the city like at night?
What's the city like during the day?
Reverse travel bucket list (list the places you've been)
Bucket list of the places you have yet to go
Tips on applying to a visa to (country)
List of museums you must visit
List of free things to do in (city/country)
Post about the tourist traps to avoid
Instagram friendly cafes
How to budget for an international trip
Lost in translation – write a funny post about not being able to communicate with the locals!
Travel and Love – write a love story that happened to you or someone you know while traveling
Advice for single women travelers
If you had unlimited money, describe your dream luxury vacation
International phone/roaming tips
What is the best public transportation in (city/country)?
Your AirBnB experience: Do you recommend it or not?
Top 5 European cities to visit
Top 5 Asian cities to visit
Top 5 South American cities to visit
Top 5 North American cities to Visit
Top 5 African cities to visit
Top 5 Oceania cities to Visit
Tips for layovers
5 essentials for a plane journey
Worst travel experience
Best travel experience
Favorite travel books
How to make a DIY travel diary
Restaurant Review
Castles to visit
Favorite Hikes in (country)
Tips on train/plane/bus/boat/camel travel
10 favorite travel Instagram accounts
5 things you need to know before visiting (city/country)
Things that make you feel at home when you're abroad
Post about a music festival
One day in (city/country)
As always, don't forget to connect with me here:
Facebook: https://www.facebook.com/caffeineberry
Twitter: https://twitter.com/caffeineberry
Pinterest: https://pinterest.com/caffeineberry
Instagram: https://instagram.com/caffeineberry/
Oh, and I snap randomly… Snapchat: caffeineberry
If you have any questions or comments, ping me an email me at ana@caffeineberry.com