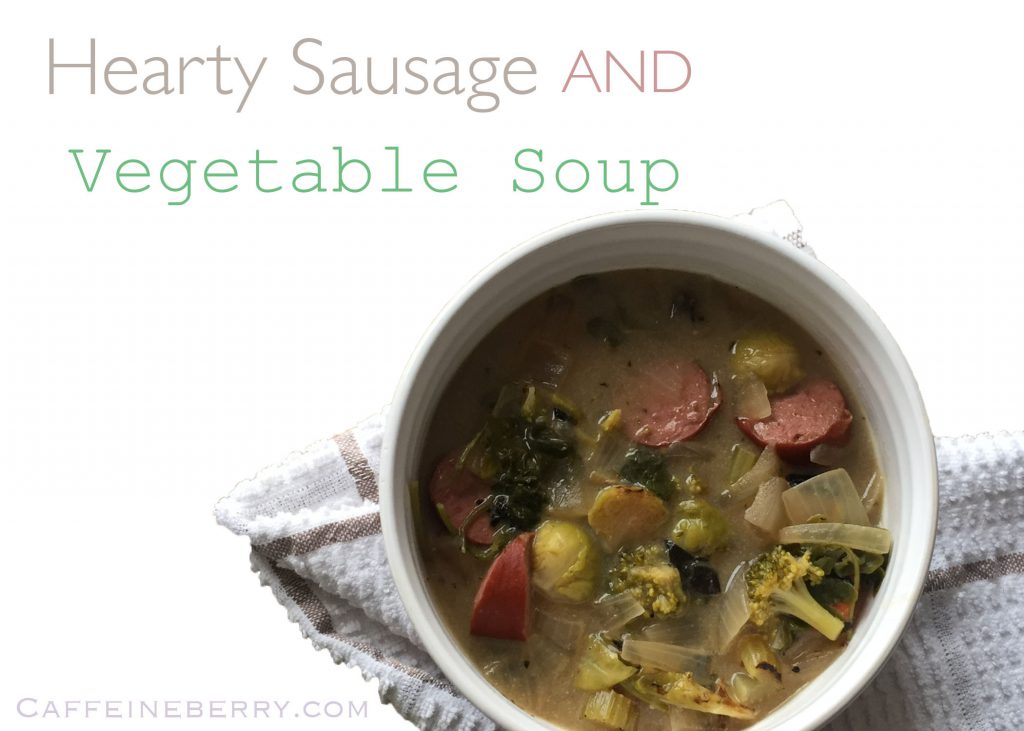 What happens when your recipe calls for chicken broth and you don't have any, but you have white wine instead? Pure genius, actually.
I wanted to make a soup out of Paleo Magazine, but I also didn't want to go shopping, so I had to make due with what I had. Thankfully, most of the ingredients (and some extras) were in my cupboard and fridge, so I was able to make my own version of this delicious, winter-ready soup.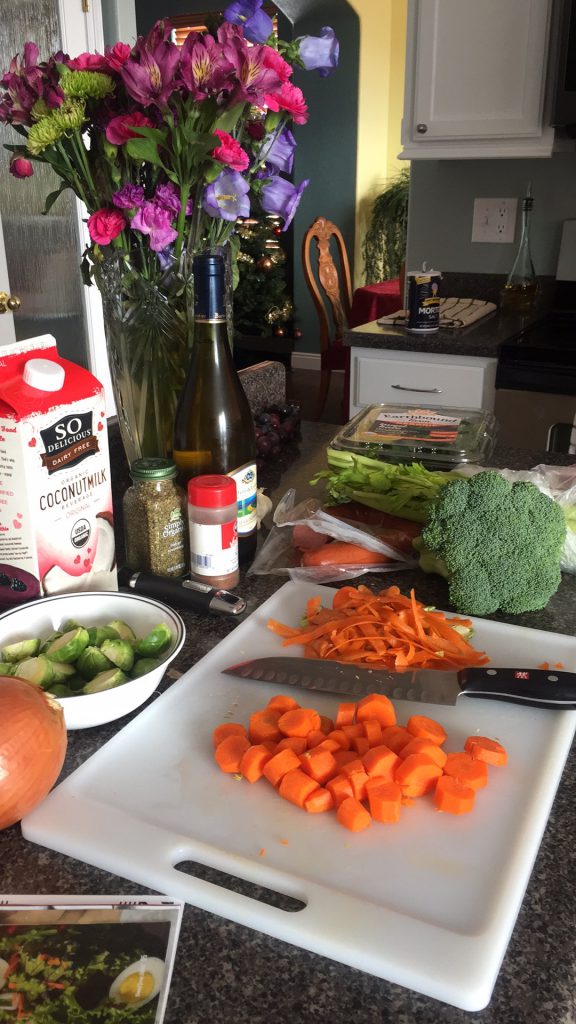 I read somewhere that you can replace stock with wine, and I was sold, because… I mean… Wine. So while it may not be purely Paleo, the alcohol would have evaporated out anyway, so really, you're just getting that bold, rich taste (and none of the drunken fun).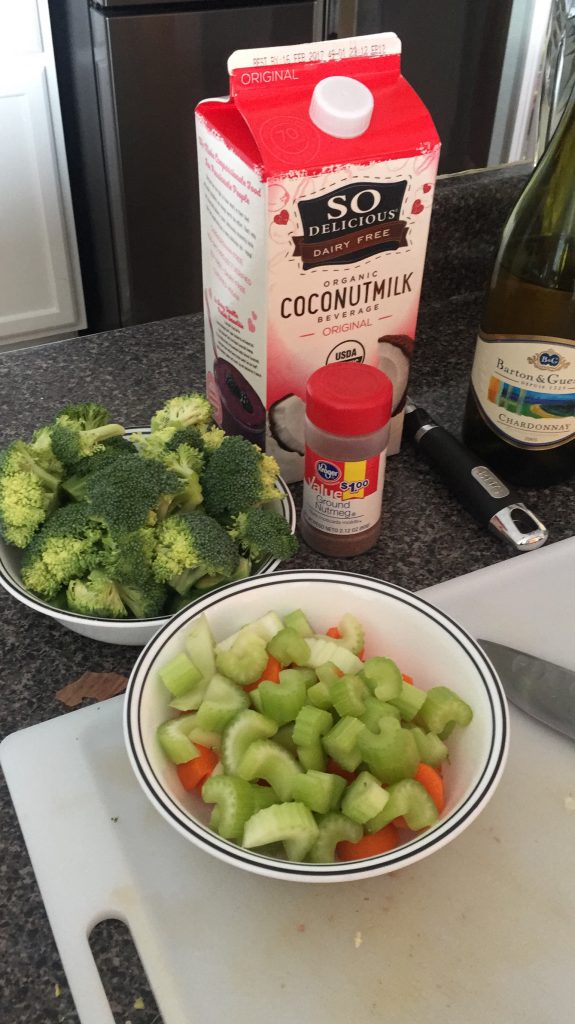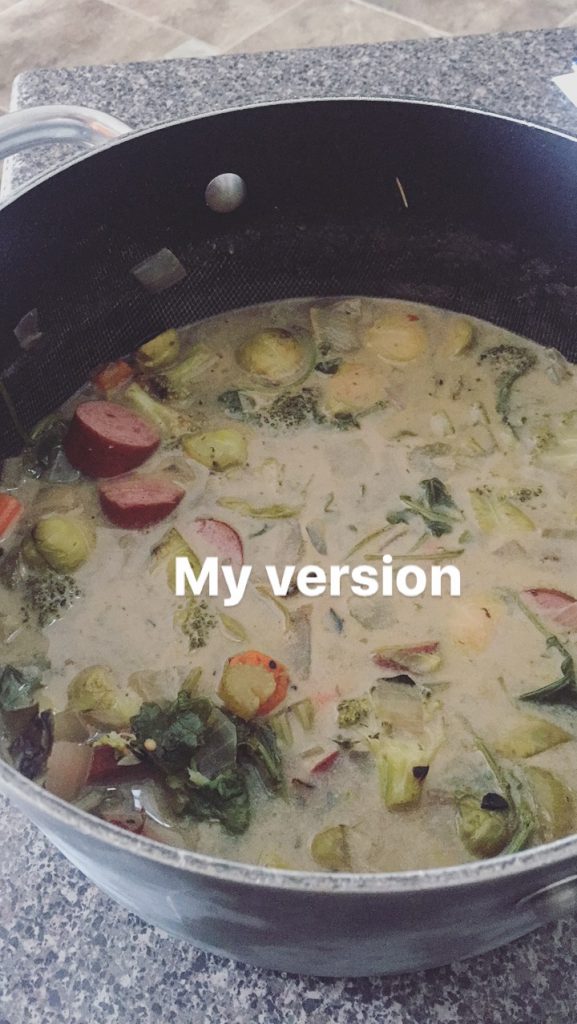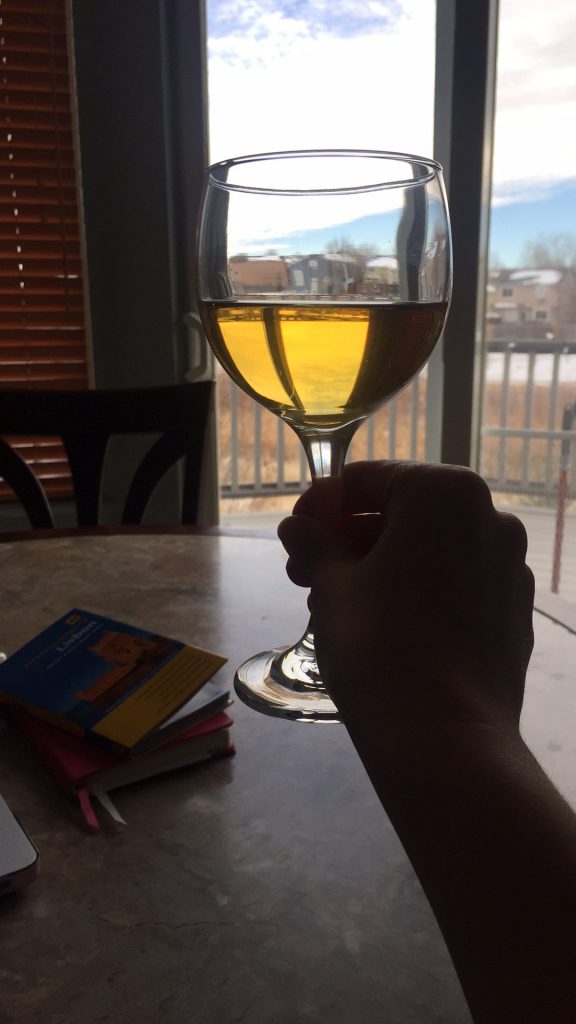 While I was waiting for the soup to cook, I may have taken a short break from my cooking… Cheers guys!
And here is the final product: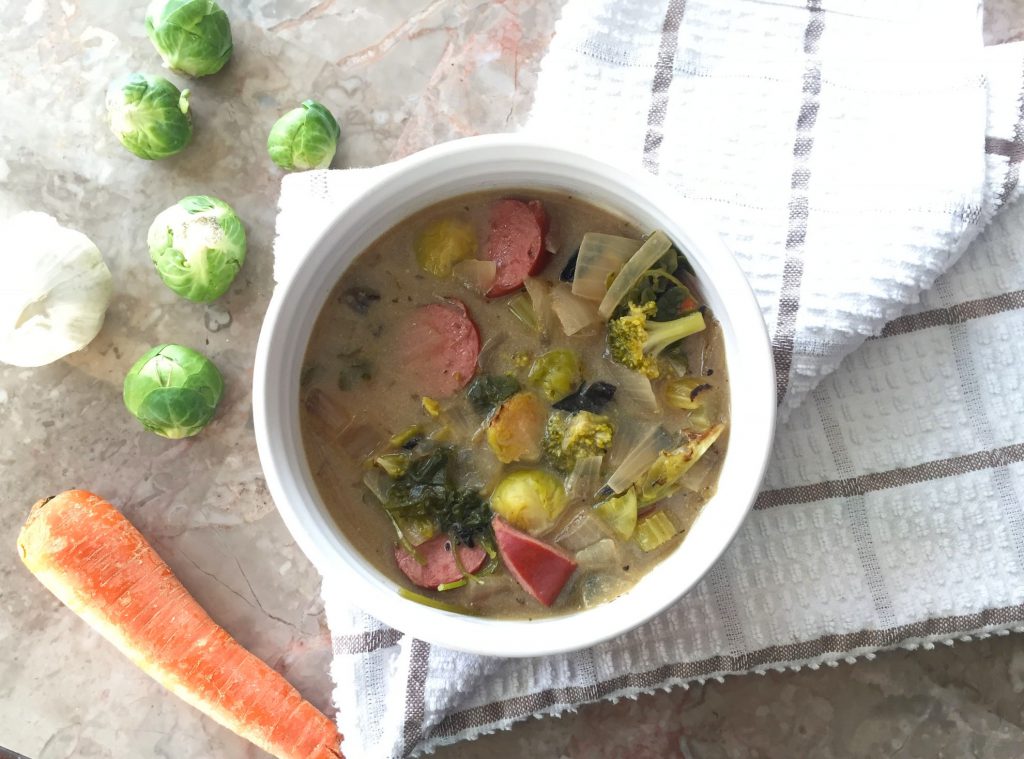 Here is the recipe! The original genius goes to Paleo Magazine, but I'm pretty sure I had a lot to do with it… Try it and let me know how it goes!!
Hearty Sausage and Vegetable Soup

Prep: approximately 15 min      Cook: approximately 40 min
1 lb of Polish sausage (Keilbasa)
1 medium yellow onion, chopped
2 medium carrots, chopped
2 medium celery stalks, chopped
1 head of broccoli, cut into florets
4-5 brussel sprouts, chopped in half
2 cloves of garlic, finely chopped
1/4 teaspoon ground nutmeg
1/2 bottle of white wine
2 cups of water
1 cup of coconut milk
1 bunch of chopped kale
Sea salt and black pepper to taste
Italian Seasoning
Heat 1 tablespoon of the coconut oil over medium heat. Add the sausage and cook for about 5-6 minutes, until they start coloring slightly
Add the brussels sprouts to the pan and let it slightly brown
Add the rest of the oil and add the onion, carrots, celery, broccoli. Cook for about 10 minutes, or until soft. Note: I usually add salt and pepper at this stage to flavor the veggies
Sprinkle the garlic, Italian seasoning and the nutmeg to the pan and mix everything together. Let it sit for a minute or two, or until you can smell the garlic and the spices
Increase the heat, and add the 2 cups of water
As the soup starts to bubble, start pouring some wine in intermittently while still stirring. Allow to boil for a few minutes
Reduce the heat to low and stir in the kale and simmer uncovered for 10 minutes
Stir in the coconut milk and season with some more salt and pepper
Serve and enjoy (with maybe some wine!)
As always, don't forget to follow me on social media and let me know if you have any questions!