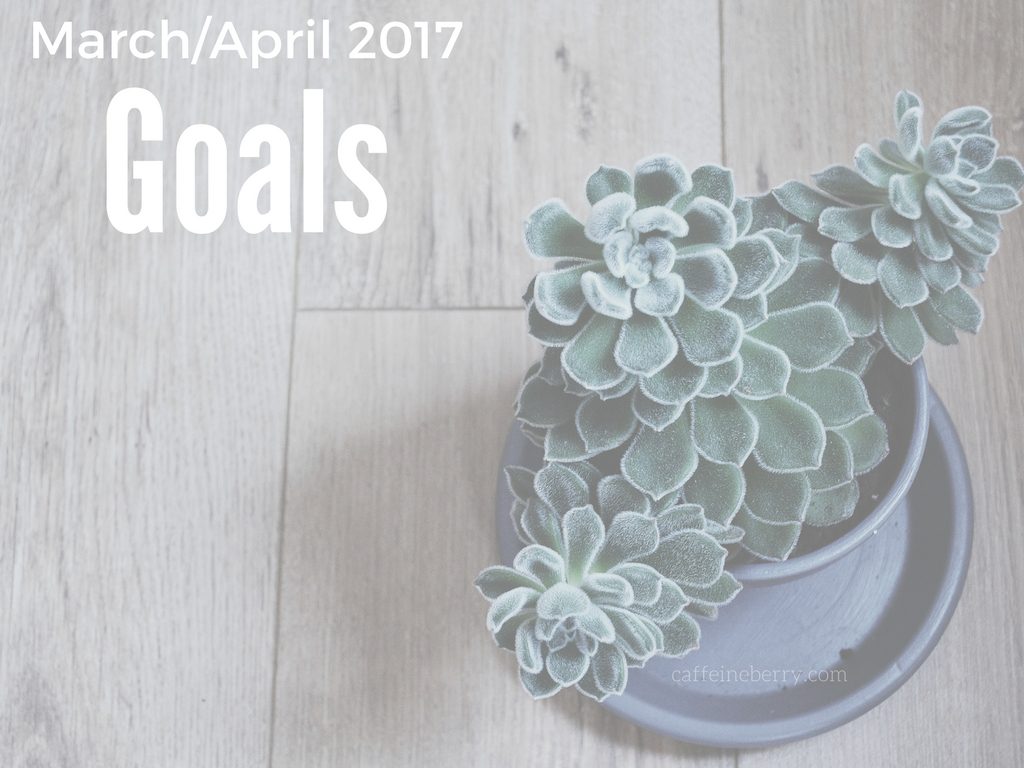 Originally, this was supposed to be about my goals for March, but March is almost halfway over, so I apologize for the slight delay. However, this little list of goals I want to work on is not limited to March, so it's something I can continue to work on, well into April and the rest of the year.
I love sitting down and reflecting on my resolutions that I made at the beginning of the year as much as I love making some new ones. You can read my resolutions for 2017 here. I feel like I should have a whole post dedicated to just those ones and my progress on them. Note to self.
These are what I wanted to focus on this month:
1. Finding the positivity in every day
I have been finding myself being a very negative person, especially the last year or so. I am quite impatient, and find it hard to believe people's actions are well intended. One of the ways I've been working to change that is that I recently started to use the 5 Minute Journal app on my phone. Basically you write a quick summary of things you are grateful for, ways you can make today better, and your daily affirmations. This has impacted me positively, and despite my inconsistency with using it, I hope to continue with this tool. I think, with time, it will start to change my perspective.
2. Start dressing with intention
I recently did a massive purge of my closet. I gave a HUGE bag of clothes to the local charity shop. With that being said, I still have a lot of beautiful and interesting pieces left. How many to these do I actually wear on a daily basis? Like, 4. I need to put the yoga pants and old university T-Shirts down, and actually reach for some of my other, nicer things. Dressing is a great way to express yourself, and lately, I've been expressing that stretchy pants are life. Time to express something else. This applies to so many areas of my life, such as work. A previous boss of mine once gave me a great piece of advice. She said "You need to dress for the job you deserve one day, not necessarily the job you have now". Dressing nicely is empowering
3. Start taking advantage of local culture
I was extremely excited for Hull's City of Culture year to finally start. So far, the cultural events I've attended can be counted with less than one hand. Let me reiterate: three months of culture have GONE by. And I've not taken advantage. The city of culture has some amazing things going on, such as concerts, plays and ballets. I, not only love viewing other people's creativity, but also live a 5 minute walking distance from the exact city centre of Hull. The only thing that is keeping me between me and culture is my lazy bum.  
4. Spring clean out my life
Purging my clothes and donating them was a very refreshing step for me. I really struggle to part with things. I'm not a hoarder, by any means. However, my perspective on collecting things has been recently shaken up. One of my relatives has been hospitalized permanently, and my mother had to go and clean out her apartment (which was full of all the stuff). Mom was extremely tired and a lot of her stuff was absolutely pointless.  This made me think about why we keep the things we do, and how we actually don't need 80% of it. We came into this world with nothing, and we will return to the earth with nothing. Cleaning doesn't only stop with the physical things, but I also want to clean out my diet, my mind and my priorities. What doesn't enrich my life, doesn't really need to be in it, I'd reckon.
5. Re-evaluate my workout routine and get back into it!
I started crossfit in January, in addition to my regular workout schedule, and absolutely loved it. But then, I traveled, or got sick, or whatever, and now, I feel like I'm back at the level where I started with my fitness. However, this can be good for me. I love any excuse to reevaluate, and revisit progress (or lack thereof) and reset my goals. I've booked my next crossfit class for today, and Thursday, and am planning on hitting the gym on the nights where I don't have a session. My fitness goals didn't end with the end of January. They are for all of 2017, so I should be regularly checking on them!
What are your goals for the month? Do you like to reflect on your progress? What kinds of things do you do to organize and execute your goals?
As always, you know where to find me!
Facebook: https://www.facebook.com/caffeineberry
Twitter: https://twitter.com/caffeineberry
Instagram: https://instagram.com/caffeineberry/
Snapchat: Caffeineberry
If you have any inquiries or questions, email me at ana@caffeineberry.com