If you've been following my Instagram, you probably have seen that I've been in France a few weeks ago. Although it wasn't my first time visiting, I enjoyed this visit SO much more than the last time. It was a whirlwind of a weekend and the entire experience changed my opinion about the famous City of Lights. Here is where I stayed, what I ate and what I visited…
The First Time…
The first time I went was 10 years ago during my study abroad year in Spain. I went with two of my friends from our program and we stayed in a very sketchy hostel. What I remember about Paris, besides the typical touristy sites, was its grayness. It didn't feel very special – more like a collection of metal and buildings. Sure, there were some pretty buildings, but the weather was awful and rainy, and everything felt very overrated. Additionally, the only guy that was staying in the coed hostel room full of international women brought home a female guest for the night, and you can imagine what activities they were up to in his tiny, stinky bunk bed. Needless to say, Paris was underwhelming.
This Time…
Fast forward 10 years. This time, we went to France for my roomie's wedding. It was such a fun part of the trip, and set me in such a great mood. The wedding was beautiful, my roomie was beautiful, and the party was SUCH a blast!
After the wedding, we made the drive up from her teeny, quaint town in Eastern France back to Paris. After what seemed like an insane journey through the disaster zone which is Charles de Gaulle airport, we dropped off the car and journeyed to the heart of Paris via metro.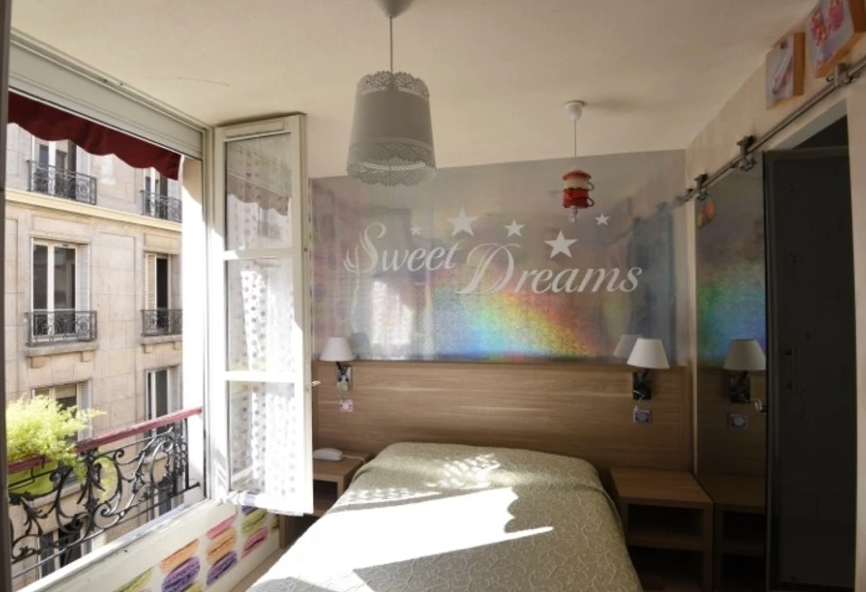 We stayed in the most charming hotel located on Rue Amélie and conveniently called, Hotel Amelie. It was very clean and comfortable and I loved that, although it was on a quiet street, it was still near a LOT of the main attractions. Getting around the city was easy because the nearest metro stops were La Tour-Maubourg and Les Invalides. You could actually see the Eiffel Tower from our street.
D and I ended up staying very local for our dinner that night because by the time we got off the metro and to the hotel, it was already 8pm. Thankfully, there seemed to be a few intriguing spots a few feet away from the hotel, so we didn't have to wander far. We decided on Gusto Italia for some Pizza. They had a great menu for either an appetizer and a main or a main and a dessert for less than 20 euros. I went for a grilled vegetable appetizer and then I had the Diavolo Pizza. D got his pizza before me. I was wondering what took so long, but it came out with a surprise… The chefs made mine into a heart! It was a nice touch, AND we got a free dessert, on top of the one that D ordered.
The next day was packed-full of activities. We met up with a bunch of my friends from England near the Notre-Dame for brunch. These were the friends from work that made the trip to see my roomie married off. The Notre Dame is a great central meeting point because it's so easy to find on a map and it is pretty central. After some discussion, we decided on Le Quasimodo for food because the original restaurant we wanted to go to was closed. I had a coffee and a ham and cheese omelette. The location was excellent and the food was delicious. The staff spoke English, so it was really easy to order.
After filling up, we did the typical touristy things. We got to go into the Notre-Dame and take in the breathtaking cathedral. I didn't remember much from the first time I visited it 10 years ago. In fact, I had completely forgotten that I had gone in. It wasn't until I was inside, walking around, that it came back to me. The stained glass windows, the sculptures depicting scenes from Jesus' life, and all the beautiful art are worth the massive line to get in. It was nice to be able to walk around and not have to actually pay to go in.
Afterwards, we mozied on over to Sainte-Chapelle, where our friends recommended we go. That was also a long line to wait in, and we had to pay for tickets. However, it was absolutely stunning.
This little corner of Paris may have been my favorite part to visit. it really was quite impressive and ornate, with the most beautiful stained-glass windows. We couldn't have gone at a better time! It was so sunny outside, that the whole room was illuminated.
Once we were done with straining our necks to admire the intricate ceiling decor of the Saint-Chapelle, we crossed the bridge and walked along the Seine to the Louvre Museum. I loved all the street stands full of old books and paintings. The weather was glorious so quite a few people were milling about. The hustle and bustle of the streets really added to the charm of the city.
After about a 20 minute walk, we got to the Louvre. We didn't go in, but we were able to sit in the sun and just take in the atmosphere. The Louvre is a place that really requires a large chunk of time in order to really appreciate its collection, and we just didn't have the time to give it on this trip.
After taking some photos around the Louvre, we kept walking in the direction of the Arc de Triomphe. The Eiffel Tower was always in our sight, and we were able to stop looking at a map once we figured out the general direction we were going. One thing I love about cities with a very tall and noticeable attraction, such as the Eiffel Tower, is that you can orient yourself so much easier. Being from Denver, things are either towards the mountains or away from the mountains, and thus, so much more navigable. Paris was a bit like that, in that the Eiffel Tower was the 'mountains'. Finding your way around was actually pretty easy, compared to cities like London.
I can't walk for many continuous hours because my back is usually killing me after a while. This usually means I need to take a small break after an hour or so. And that means I just get an excuse to try many local cafes on my way! We stopped at Cafe le Carré on Avenue Franklin Delano Roosevelt for some coffee and pastries. Traveling around Continental Europe always includes sampling as many local pain au chocolates as humanly possible. With more caffeine in my system, as well as a freshly consumed ibuprofen, I found a new resolve to get up and walk back to the hotel to get ready for dinner.
After getting some rest and freshening up, it was already dinner time and we were famished. Although Paris has no shortage of restaurants, we decided to stay close to the hotel. To be honest, Rue Amelie has great restaurant reviews, and it's not even a busy street!
Our stop for dinner was Bistrot Chez France. My choice for the starter was a French Onion Soup, and a lamb dish for my main. The potatoes were perfectly seasoned and the lamb was superb.
If you're looking for awesome service, affordable prices and French cuisine, this was a great choice.
Our next stop was the place where you can get the best photos for the 'gram. We wanted to see the Eiffel Tower at night in all its glory, and what made this night even more special was the full moon. Head to the Place du Trocadéro, and you will not be disappointed.
Next on the agenda was heading to the Latin Quarter for drinks with our friends from England. We met on a random street and voted on where to go next. Our friends recommended that we go to a fun piano bar nearby, and that's where we decided to spend the rest of the evening. The singing was great and there was such a good vibe from the audience. I honestly recommend ending your night there!
As you can probably see, I had SUCH a great experience, second time around. The lesson here is that you can't let first impressions deter you from giving something or someone a second try!
I'm curious to know, what places have you visited in Paris? Do you have any recommendations? Where should we visit next time?