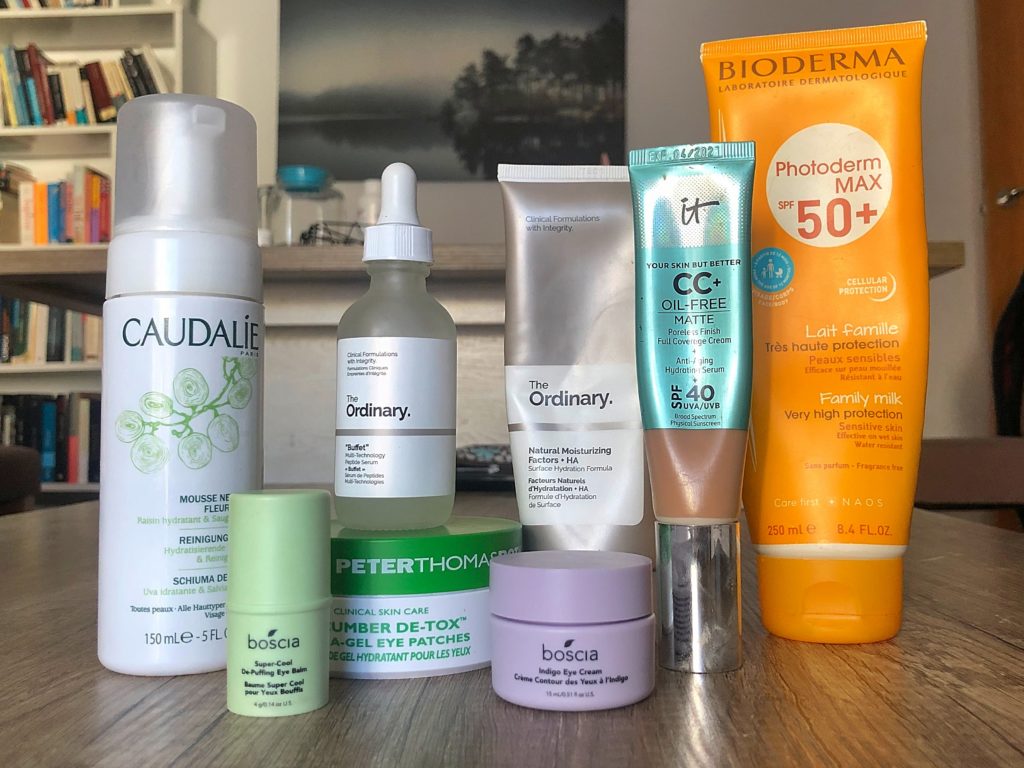 For most of my teenage years and early 20s, my biggest skincare concern was acne. It was only after 2 rounds of Isotretinoin (aka Accutane) that I could catch a break. Nowadays, I occasionally will have a breakout, but my skincare regime has pivoted from fighting pimples to anti-aging, especially since I am now (*cries*) in my 30s. After trying many different products, I've found something that works for my skin type, and this is my current morning routine…
I want to start by saying that I'm not a doctor, nor am I an expert in skincare. I've read some books, articles (like this handy guide), watched a lot of youtube videos, and tried a lot of products. Do I follow all the steps every day? No. Do I still have amazing skin? Also no. But part of the fun is in trying out things and experimenting!
The other thing I'd like to mention is that I have combination skin (if you don't know what skin type you have, read all about them here) and sometimes it gets a bit congested. Are all the products that I use the best for my skin type? Possibly not, but what I use is a combination of stuff that works for me right now as well as things I like or find luxurious.
This routine may change in the future, as I will try new products and have different needs depending on what season of life I'm in. I'll update this with any future changes too!
*side note: none of these products are sponsored. These are all products I genuinely use and love, and I either bought them myself or I was gifted the product by a family member!
1. Cleanser
I try to keep my morning routine fairly straightforward. One of the main issues with my skin type is that I can have oily patches at the same time as really dry patches. Due to that reason, I do not double cleanse in the morning and stick with a foaming cleanser. I have been using Caudalíe Instant Foaming Cleanser now for a few years and love it, especially the texture and the smell. I find it a little drying, but normally, if I follow up with a moisturizer, it does the trick. The foam cleanser has grape, chamomile, and sage extracts, making washing my face in the morning a very pleasant and soothing experience. I've been buying it in a double pack, making it really affordable (here's the link I use in Spain), but it looks like in the US, it's a bit pricier.
2. De-puffing gel/eye patches
Once in a while, when I feel particularly puffy or haven't had a good night's sleep, I'll put something under my eyes to give them a boost. I rotate between Boscia's Super Cool De-Puffing Eye Balm (which is currently sold out everywhere I looked) and Peter Thomas Roth Cucumber De-Tox Eye Patches. In order to maximize the cooling effect, I like to keep the eye patches in the fridge. I LOVE to use this on a hot summer morning when I feel like I've inflated. These are not the cheapest, but I don't use them often, so they lasted me a while!
3. Toner
I tend to skip this step in the mornings because I've noticed that my skin dries a little bit too much in the winter when I use a toner or exfoliator twice a day. I'll cover which one I use in my evening skincare routine post (stay tuned!).
4. Serum
I was recently introduced to The Ordinary products (as in, last year), and have been impressed ever since. These little bottles are packed full of effective ingredients and I wouldn't hesitate to compare them to other high-end skincare for a fraction of the cost. In the mornings, I like to use the Buffet multi-peptide serum by The Ordinary. I feel like this serum makes my skin more supple. It's supposed to help with dryness, dull, and uneven texture, as well as anti-aging (thanks to that hyaluronic acid it packs). I have noticed a difference in my skin when I use this regularly.
5. Eye Cream
My mom sent me a care package a few months ago (thanks Mom!) and it included two different eye creams from boscia (a plant-based, preservative-free brand), as well as the de-puffing gel stick mentioned above. The Indigo Eye Cream instantly became one of my favorites to apply in the morning because it's so rich and creamy without feeling greasy, and I feel there is a noticeable difference to my fine lines when I'm using it daily.
6. Spot Treatment
Thanks to Accutane, I rarely get breakouts now. But every so often, I get an obnoxious zit on my chin (especially now that we are living in our masks – thanks C-word-19!). For those moments, I'll use my Salicylic Acid solution from The Ordinary. According to the website, the formula is currently being updated. If it's as effective as the old formula, it will be a staple in my skincare routine.
7. Moisturizer
If you're starting to see a pattern, you see correctly. I'm about to finish another The Ordinary product and will most certainly be buying it again. The Natural Moisturizing Factors + HA has easily become one of my favorites. The lotion doesn't have any perfumes and I love that it doesn't feel greasy or heavy. I use it year-round and it keeps my skin under control. On days where I am feeling really lazy and staying at home, this will be the only thing I put on after rinsing my face with water.
8. Sunscreen
On days that I don't wear makeup, for my last step, I will put on some sunscreen. I am using Bioderma Photoderm Max SPF 50+, just because it's what I have leftover from summer. If I want to look a little more put together and wear makeup, I will put on IT Cosmetics CC+ Oil-Free Matte Makeup with SPF 40 instead. I love how this makeup looks and feels on me, and it comes in a lot of shades. Additionally, it's one of the few foundations that doesn't clog my pores.
And that's mostly it…
Like I said earlier, my skincare routine is pretty basic, without any fancy steps. I like effective products that don't break the bank.
Am I missing anything? What are your favorite products to use? I'd love to hear all about it in the comments!
BTW – I've left the links to all the products in the carousel below!