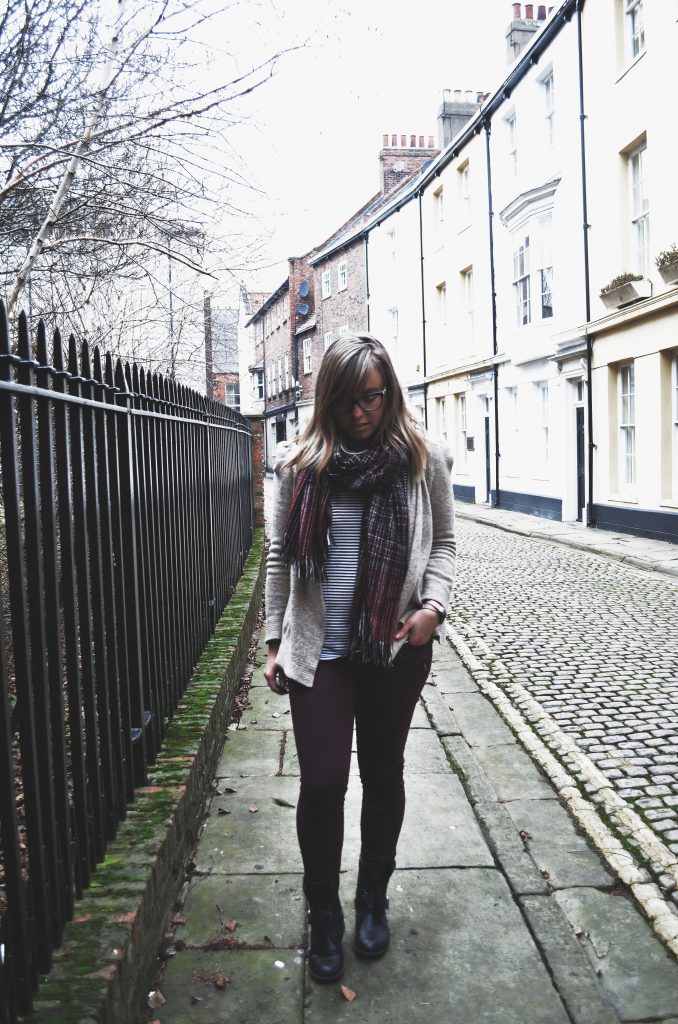 In some parts of the world, the seasons are beginning to show signs of change. In Hull, however, we are still in full-blown winter. Well, Winter, at least for British standards. This week, Storm Dorris collided with the UK, and lots of parts of the country are dealing with heavy winds and torrential rains. My little corner has not been affected as badly as some, but it is still noticeably cold, rainy and windy. There is nothing that excites me more than arriving home, curling up with my favorite blanket on the sofa and NOT having to be outside. However, I am not a hermit, and occasionally have to venture out, especially to work. I've been surviving the last few winter months by bundling up in cozy knits.
This cozy woolen cardigan is something I've had in my closet for years. I bought it at Anthropologie, and at the time, I wore it maybe once or twice and decided I didn't like it. But I could never get rid of it. Years later, I have rekindled that initial connection with this article of clothing, and it's been lovely. She keeps me warm in the winter months, and I have given her a second life. Since it's such a neutral color, I can add different prints and colors to it.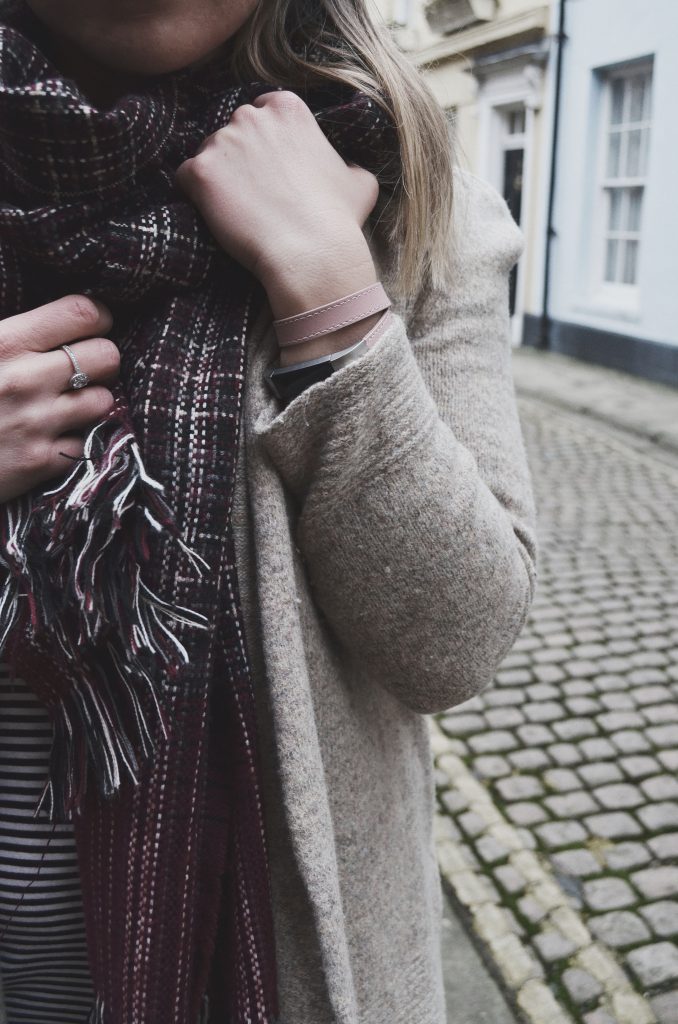 My favorite color, the last few years, has been burgundy/wine. It's not just for the drink (O.K., maybe it's because of the drink…) but burgundy is such a rich color. I think goes with many people's different skin tones and it is something you will always find in my closet (and in my pantry… wine, that is). One of my favorite purchases from Zara was the burgundy colored jeans that I'm wearing for this post. They are so functional – perfect for going out, especially if you pair them with a lacy black top and you can easily wear them casually with relaxed fabrics and layers. I matched this with a striped t-shirt and woven scarf. I feel like my style, lately, has been what I've affectionately dubbed as 'grandma-chic'. I keep gravitating for those woolen/knitted sweaters, blanket scarves and classic patterns.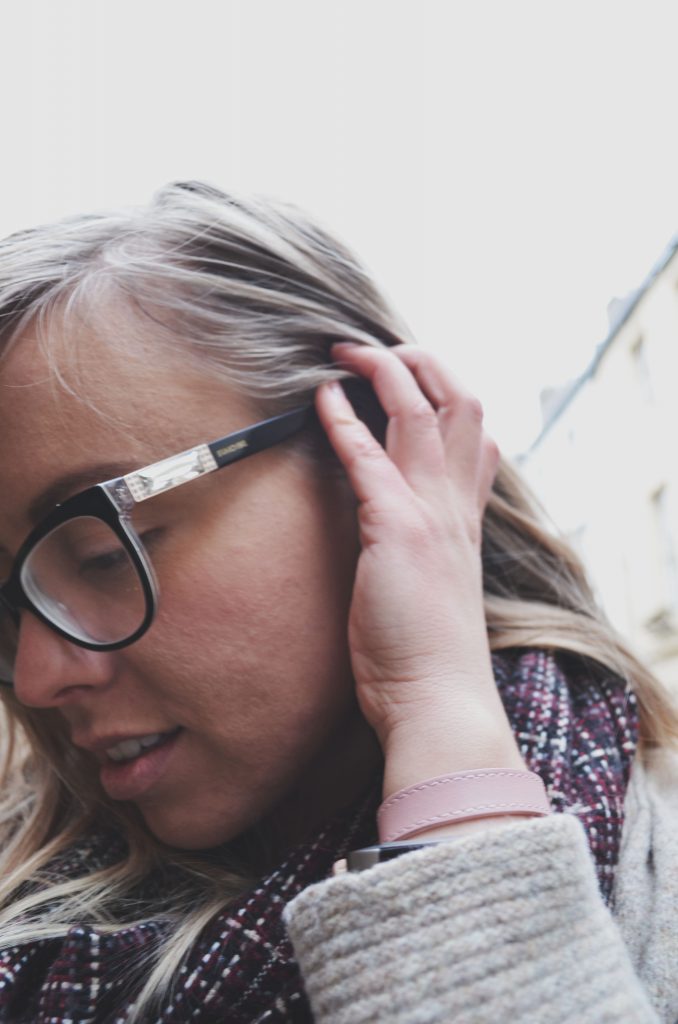 Also, I got new glasses (finally) and cut my hair short. I have worn contacts daily for the last few years due to the fact my prescription on my former glasses was ancient. Now, I have new Swarovski glasses, with a sparkly little gem on each side of the frame. Because of all these changes, I feel like a shiny new penny (as my Babushka used to say).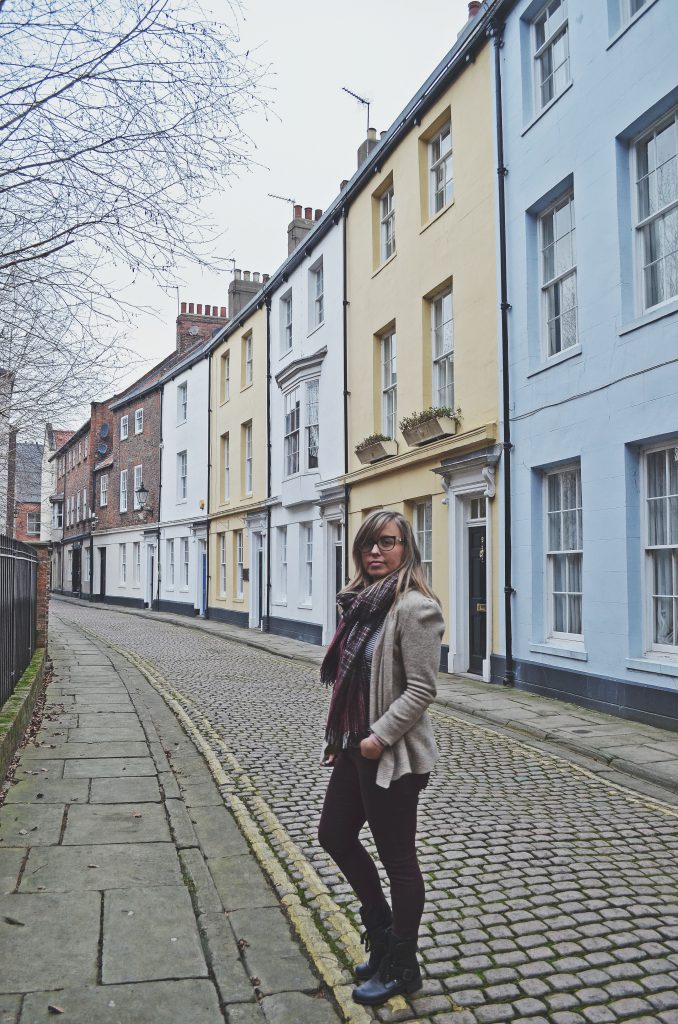 Happy Weekend Everyone <3