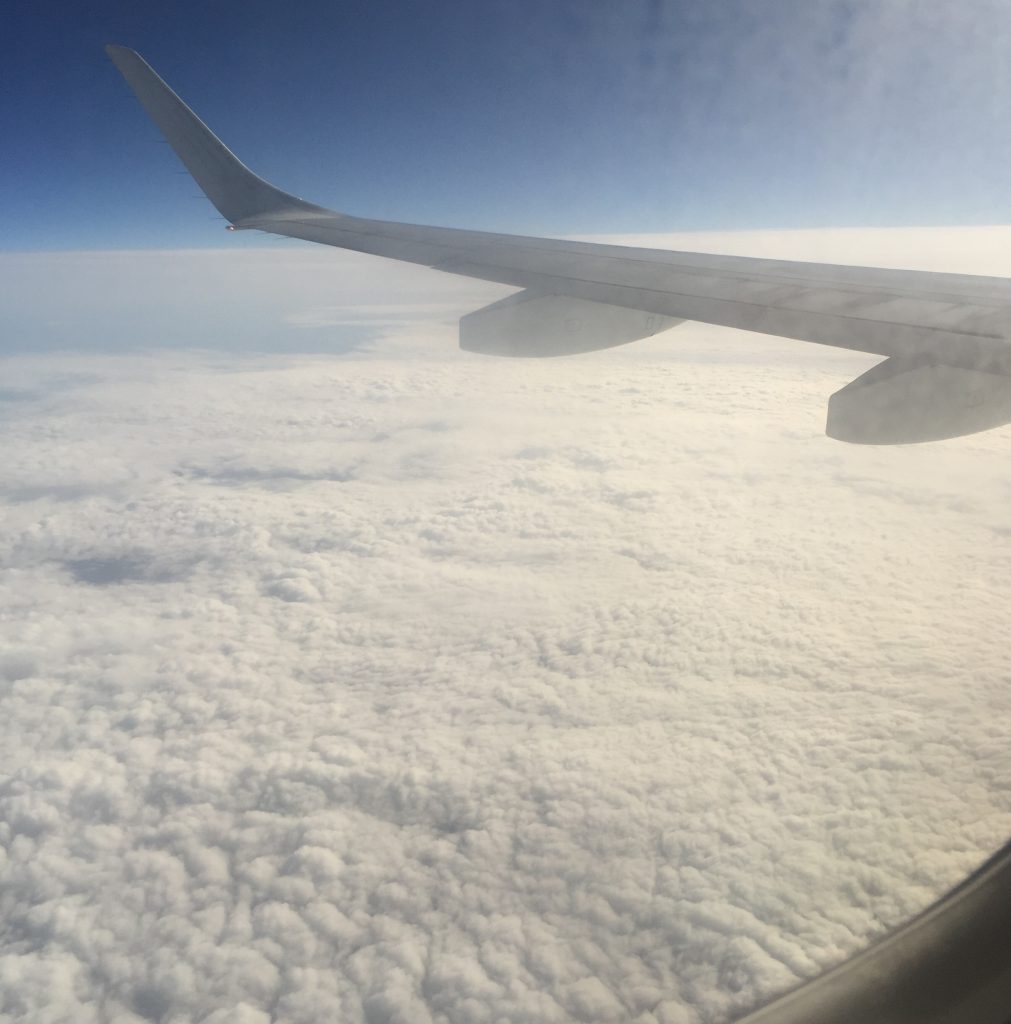 I generally try to have this 'recap' on Mondays, but I've been so busy trying to get readjusted to the timezone, get caught up on work, and catch up with you guys! To say that the last few weeks of my life have been chaos is an understatement. I'm going to combine part of the end 4th and 5th week of March into this review to just capture and share a little bit of that craziness.
First, I found out my Great Aunt was not going to make it, and so I booked a flight as soon as I could go to Colorado (more on that on a later post). But before I could go, I had a pre-booked business trip to Denmark. I flew from London – Stansted to Billund, Denmark late on Tuesday, the 22nd of March, at night, then the following Wednesday, I did the businessing. On Wednesday night, I flew back into Stansted pretty darn late. Soon after I landed, I got a taxi from Stansted to Heathrow at 2:30 am (note to self – London is MUCH bigger than you would expect it to be) to make it for my 6:30 am flight to Brussels. It took me an hour and 20 min or so. AND I paid for the taxi with what feels like precious metals. Oh, and maybe a kidney or two. Also, I don't know why on God's Earth I needed to go to Brussels, but I did, in order to fly to Toronto.
To make things more interesting, when I landed in Toronto they told me my luggage never made it to Brussels. Come on Brussels Airlines, I was literally the first person in line. I put my luggage on the conveyor, you tagged it, and off it went. Or apparently not. It didn't even arrive until 7 days AFTER I had arrived home. Lufthansa was supposed to handle it for Air Canada, who was supposed to handle it for Brussels Airlines, and let's just say nobody handled anything. My dress for the funeral was in there, the Bible my auntie gave me for my 15th birthday was in there, and so was the thing I bought with my first 'big girl' paycheck – my Nikon DSLR camera. So many sentimental things were in my suitcase. I had to mentally prepare myself for the possibility of never seeing them again.

Anyway, I flew Toronto to Denver and even had an evening leftover with my family. I don't think I've been that tired in a long time! However, I must say that going backwards in time helps with sleeping on time (at least I think it does). I was going to bed at 10:30/11 pm every night in Denver, and waking up at a decent hour (ie – 7-9 am). Ever since coming back, I have not been on a regular sleep schedule. I am trying to balance all the routine things I left abruptly, trying to still fit in workouts, cook food for myself, do laundry (I have a ton of laundry) and somehow I'm still supposed to sleep. It's 1:00 am right now. Just FYI (please send help).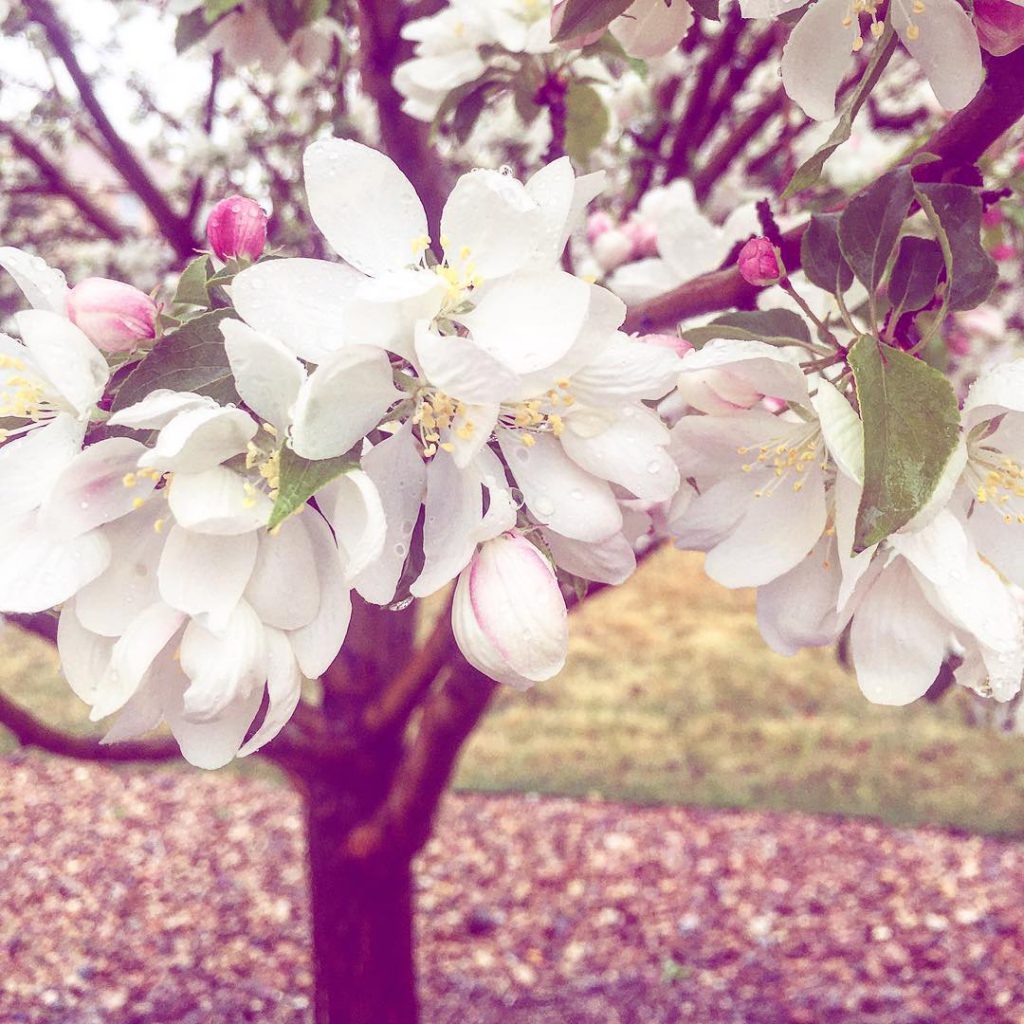 The Monday after I arrived was my Great Auntie's funeral. This was probably the biggest stress factor of all. I'm really sad and will be for a while. Although I wasn't particularly close to her this last year, she has been a massive part of my life. I am still dealing with guilt and just struggling to accept it but I'll write more on that later…
Back to the fitness (trying to distract myself here)… I really wanted to stay active while I was back home. Not only was exercise a great distraction from everything going on, but also, I didn't want to go back on the progress I'm making. I had access to a car back home, and where my family lives in Colorado, you can't get to many places without driving. What drives me nuts about driving is how little activity you actually get. Unless I went for a long run, I wouldn't make my step count goal. Some days, I had an atrociously low number on that fitbit.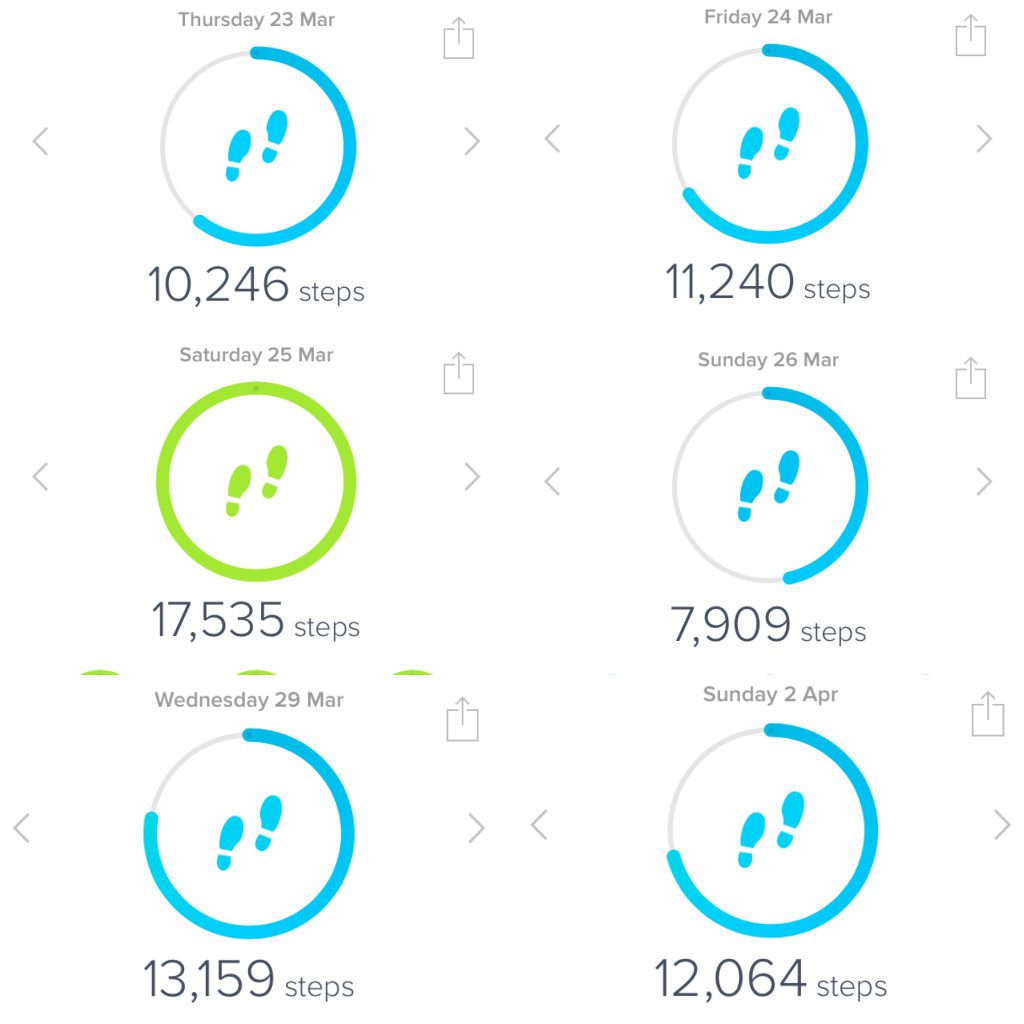 [Obviously, not every day for the time I was in CO was captured here, but as you can imagine, the rest of the days not mentioned here probably have less than 5,000 steps. Oopsies]
I went for a few decent runs with Nala to the dog park, and found that to be extremely therapeutic… Not only for my overly active 4 year old puppers, but for my overly active brain as well. I laughed so much while I was there, watching Nala tackle and herd the other dogs. She is just pure joy and energy, and absolutely lights up my life. Additionally, another part of the therapy was running in altitude. Have you ever done any exercise at higher altitude? Because let me tell you, my lungs felt like they were going to explode. In that moment, I was so focused on not dying that I really couldn't think about anything else.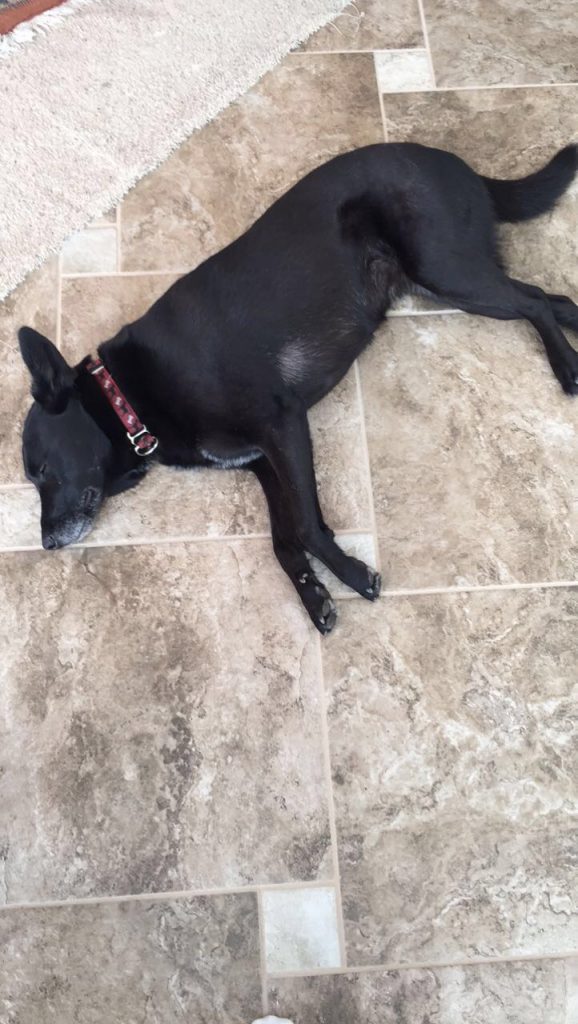 [Look at how worn out my little muffin is]
Food wise, I actually ate fairly healthy (apart from all the wine I consumed). My family doesn't eat any grains, so most of our food (apart from my occasional sushi venture) was pretty much paleo. That made it really easy to stick to eating healthy, natural foods.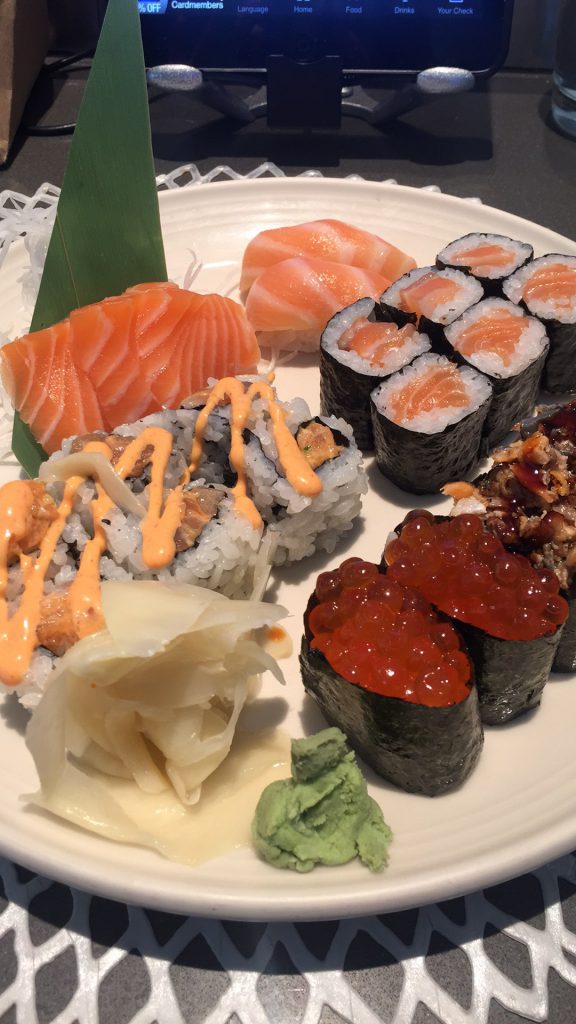 [How amazing does this look? *drooling*]
One of my favorite health food stores, Sprouts, is about a 10 minute drive from my house. I sometimes go in there just to window shop. They have so much selection, especially in their produce and their specialty foods. I never leave that place empty handed! A few new things I bought from there were some natural toiletries (because at this point, I still did not have my luggage). I bought some really great mineral makeup and a natural deodorant bar. In terms of food, I tried bone broth for the first time (more on the blog later).
The great thing about being home is being able to eat home cooked meals. Mom made some delicious things for us, and I kind of am thinking about writing up the recipes and posting them on here.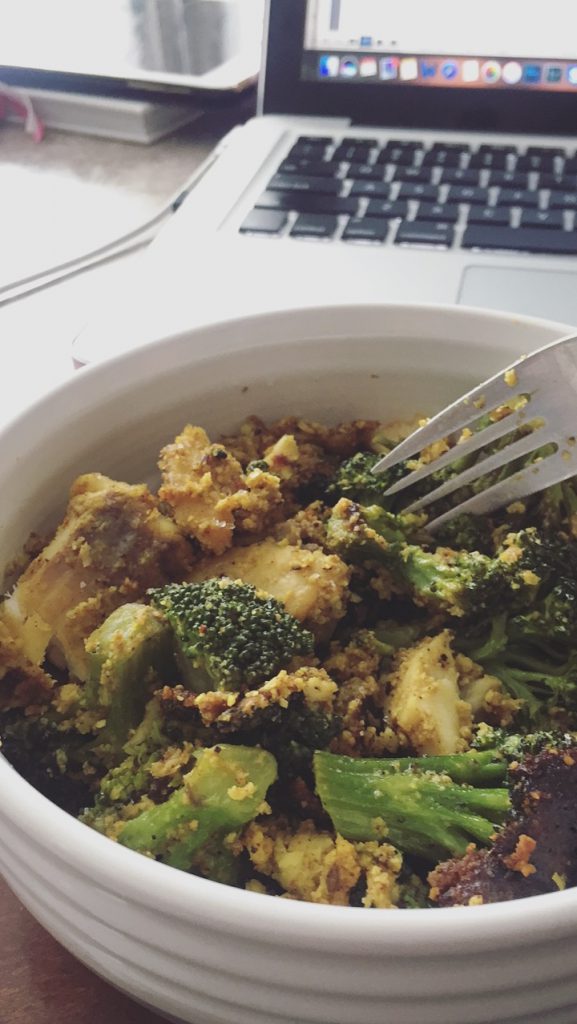 [This was an awesome almond breaded fish with broccoli that my mom made. Will put the recipe on the blog soon!]
Just as I felt like I was sleeping better and longer, I left back to England on the 1st and arrived on the 2nd in Manchester. Thankfully, on this occasion, I had only two flights to catch (Denver to New Jersey and Jersey to Manchester), but it was going forward in time. I think I'm still jet lagged.
Pros:
I ate very healthy

I worked out a few times
Cons:
I am still struggling with a very messed up internal sleep clock

I drank probably too much vino that week. It made me feel super sluggish and just was so unnecessary
It has been an eventful/sad time in my life. Even though the death of my auntie put a shadow on the visit, I was very lucky and very happy in so many ways. I am so lucky that my work was very compassionate about my loss and let me have the necessary time to go and be with my family. Flying internationally is not my favorite, but I was safe and secure (despite the several occasions of turbulence that reminded me of my mortality and that I am in a large tin box, hurling through the air). I got to be with my family in such a difficult time and that really helped all of us deal with the loss.
How do you deal with jet lag? Do you have any tips and tricks? Also, how do you keep to eating healthy and exercising especially when you don't have a gym or you're stuck in the airport?