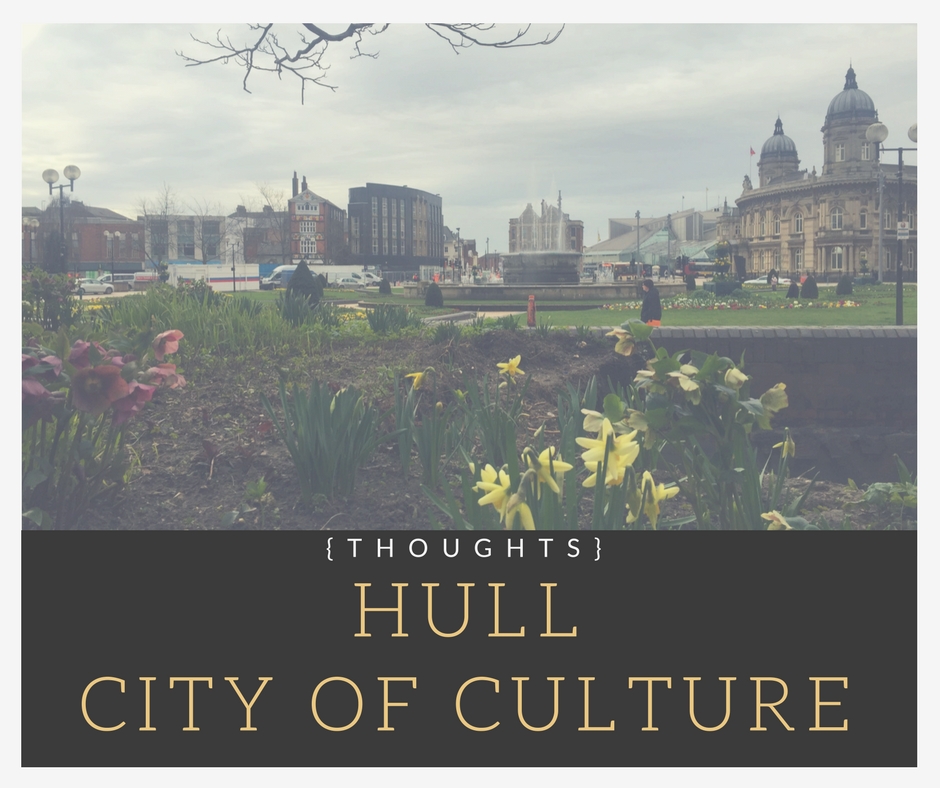 When I moved to Hull in 2014, I kept hearing about the 'City of Culture'. At that point, I wasn't sure exactly what it meant. Regardless, I was happy because it put Hull on the map. There was a lot of excitement surrounding being given this title, and I knew that my little city was going to get some much-needed TLC. Additionally, I was looking forward to the many cultural and social events coming our way…

Fast forward to 2017 and there have been so many monumental changes! The city centre has received a major makeover, including brand new pavement, brand new trees throughout, and a few desperately needed paint jobs. Ferens Art Gallery has been refurbished and has acquired some new and interesting artwork. Additionally, the City Council put on some exciting events at the beginning of the year, to set the tone for 2017. We had a massive fireworks display (which, I missed out on because I was in Lisbon) and then a weeklong 'Made in Hull' tribute. My favorite part of that display was the one in Queen Victoria Square. A video was projected on the buildings in the square showing the history of Hull. It was really fun to walk around town and discover different videos playing throughout the city. Each corner had something unique to display. Afterwards, the city moved in a massive object into the square that they affectionately dubbed 'The Blade'. It was literally a massive blade made by Siemens in Hull. This was all in conjunction with the theme 'Made in Hull', and it displayed our city's capabilities. I cannot say that I was the biggest fan of this installation, but it was definitely a conversation starter!
To be completely honest, I think Hull needed this, and more. I've always been happy in Hull, but nobody can deny that it has had a bad rapport amongst the Brits due to the lack of forward progress/refurbishment. It seemed to be stuck in time, with entire sections of the city 'out-of-business' and littered with vacant shops and stores. Hull has such a rich history, that it was really a shame that something like City of Culture hadn't happened earlier. Being the worst bombed city during WWII, after London, one would think there would have been a little more investment, but there wasn't.
The preparations for the city of culture weren't the smoothest ride either. From what I heard, we were over-budget and we were VERY behind schedule. Orange barriers are STILL up in parts of the city for the refurbishment. Queens Garden is closed (still). I understand that these things take time, but we had 4 years notice, so it would have been great to have everything in place prior to 01 January 2017. Additionally, there are some parts of the city that are still half-done and possibly just abandoned. The bridges were painted a very neon yellow color (blerg), but that wasn't completed, and I haven't seen anyone working on them in a long time. It's half white/half yellow, and it's been this way now for 3 months or so. I am a strong believer that if you start a paint job, you should just finish it.
Regardless of some of the negatives, I love the attention and energy that is being focused on this beautiful city. Concerts are heading our way (including one with Katy Perry!) and each season of this year the city council reveals some surprises revolving around a theme. The seasons and themes are: January to March was 'Made in Hull', April to June "Roots and Routes", July to September "Freedom", October to December "Tell the World". I'm looking forward to them revealing what is on next!
A few things not to miss…
Display: Poppies: The Weeping Window (25 Mar -14 May 2017) – A gorgeous display of ceramic red poppies falling out of a window in the Maritime Museum to commemorate all the fallen victims of WWI…
Concert: Where are we now? Part 1 (02 Jun 2017) – Including Young Fathers, Charlotte Church, Hollie McNish, Linton Kwesi Johnson and others
Concert: Radio 1's Big Weekend with Katy Perry, Kings of Leon and Stormzy (27-28 May 2017)
Art: Pietro Lorenzetti: Siena to Hull, A Masterpiece Revealed (13 Jan 2017 – 23 April 2017)