I realize I've been missing in action all of last week. I'm sure you'll forgive me, as I was a very, very busy birthday girl!
Let me catch you up on what I've been doing. On Saturday (the 29th) at the most ungodly hour (also known as 4 am), my roommate and I managed to tear ourselves away from our sheets, comfy blankets and inviting (respective) mattresses, and we dragged our tired bodies to the train station to start my 28th birthday festivities…
[On the train and NOT awake… But still smiling]
At the crack of dawn, especially on a Saturday Morning, it is extremely difficult to find a cafe open. We had to manage the first leg of our journey without caffeine. While the initial part of the day was difficult, we were soon jumping up and down with excitement for the journey ahead of us. We wanted to make the the 5:20 am train from Hull to Doncaster (and then Doncaster to London). When planning this weekend, we had decided that in order to not pay for two days in an AirBnB, we would instead wake up and come to London as early as possible on Saturday. This turned out to be a good idea, albeit we had about 4-5 hrs of sleep the night before.
Not only did my roommate pay for my ticket to the Harry Potter Studios tours but she surprised me with a few little final touches prior to arriving in London. 😉
We got into King's Cross at 8:00 am. As we were walking out of the station, we walked passed platform 9 3/4, and there wasn't any crowd waiting for their photos. T and I jumped into the queue and took some awesome photos of us on our way to Hogwarts. Too bad it was only pretend, as I would happily enroll in that wizarding school.
After a little discussion, we decided that we would go to St Pancras Station for some breakfast. Luckily, Le Pain Quotidien was open that early. I ordered the avocado on rye bread, with scrambled eggs and salmon. It was so delicious, I scarfed it up straight away. I was also fighting a bit of a cold, so I ordered the Immune Boost juice. It was delicious and I think it made me fight off my cold faster.
With our bellies finally full, T and I went to explore a few of London's neighborhoods. Covent Garden was first on the list. There were so many high end shops and the market area was really adorable.
Looks like they were ready for Halloween!
Every corner we turned had more brunch spots and cute shops.
After Covent Garden, we walked over to Trafalgar Square. It is an impressive square, with a massive monument called "Nelson's Column" and fountains.
Then, we paid an obligatory visit to M&M world. We somehow resisted in buying any M&Ms. I think that the smell of chocolate was enough to sustain us.
Next on our stop was Camden Market. This is one of the most vibrant parts of London. There were so many different shops, stands, and restaurants. The whole area was full of diversity and culture.
After finishing the burritos, we thought it would be appropriate to order Crepes for dessert. Crepes a la carte was another stand in Camden and the people running it were all French, and absolute pros at making crepes. I had the nutella crepe and it was to die for. T opted for the more traditional French way of eating it – with butter and sugar.
The Harry Potter Studios was such an amazing experience. I was so happy to finally be seeing where a huge part of my childhood was filmed. I think I'll have to save that for another post, because I took SO many photos while I was there.
By the time we finished the tour, we were knackered. Our original plan was to make a night of it, and get dressed up in Halloween costumes and explore the London nightlife, but we just couldn't. The exhaustion wiped us out!
The next day, we woke up at a reasonable hour, and had a quick breakfast and coffee at the nearest Costa, and headed to the London Eye, where we had pre-booked our tickets the day before. As with anything that you pre-book ahead of time, it was the worst weather for seeing anything! The fog hung low and we couldn't make out much of the city. It was a bit disappointing, but we still saw a  bit!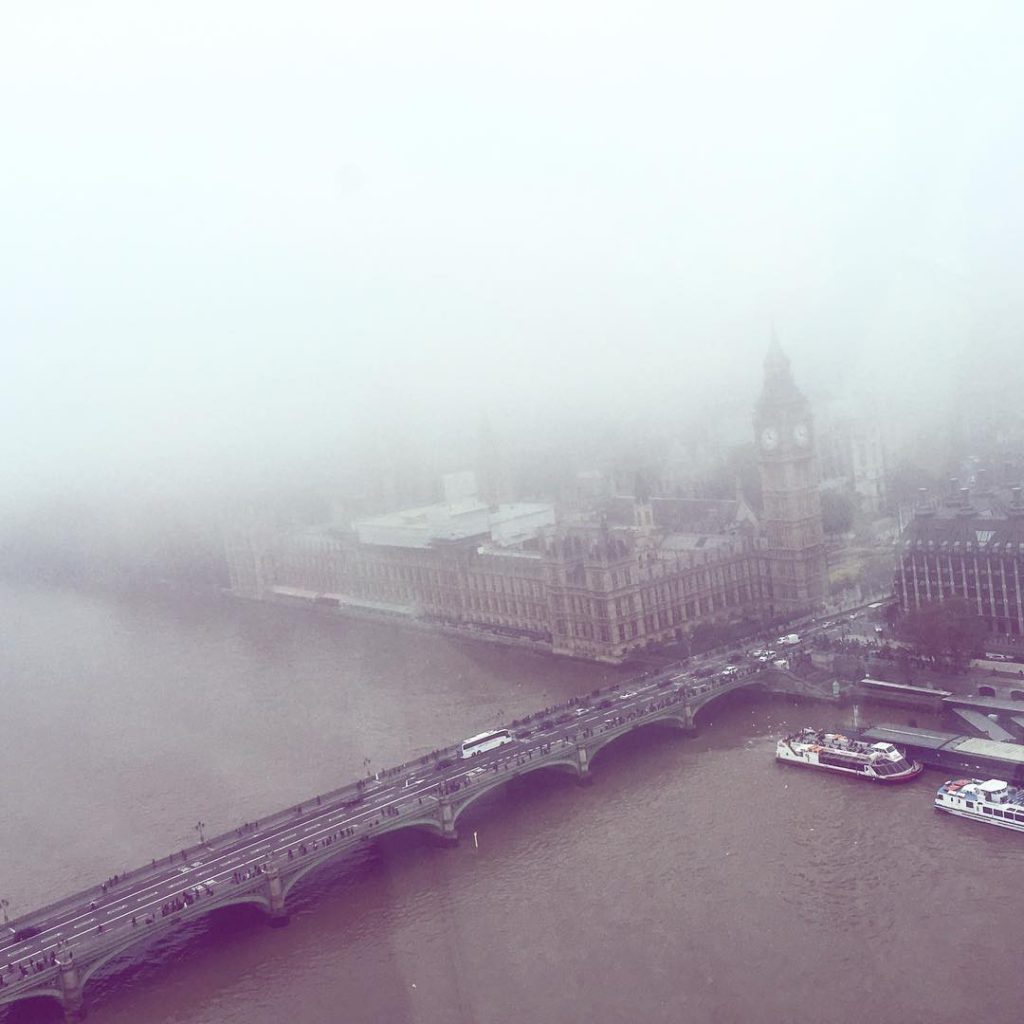 Soon after our trip to the Eye, we decided it was time to get some food, and found All Bar One nearby. They were fairly short staffed for such a busy time, but our food was delicious, when it finally arrived. I had the English Breakfast with a Bloody Mary.
After we were fed and relaxed, we went back to Camden Town to explore a bit more of the market.
Our last stop of the day before heading to King's Cross to come back to Hull was a bar called The Cuban. We were so lucky because they had live salsa music, and many people were dancing. I am a huge fan of latin dancing, so this was totally my scene.
Finally, we decided it was time to end our little adventure in Camden Town. We grabbed our stuff and trudged to the train station, exhausted but not ready to leave London yet.
My 28th birthday was so great. I always get nervous about turning a year older, but this was the perfect way to ease me into my (much later) 20's. Reliving my childhood, exploring new neighborhoods and eating so much delicious food was just what the doctor ordered!