It's a fairly accurate assumption that most women spend a lot of time in bathrooms. On average, we spend about 1 year, 7 months and 15 days in the bathroom. That is a LOT of time. What do we do in there?
(Es muy cierto asumir que mujeres gastan mucho tiempo en los baños.  En promedio, nosotras gastan casi un año, siete meses y quince días en el baño. Esto es MUCHO tiempo. ¿Qué hacemos allí?)
For me, the bathroom is a bit of a 'safe haven' of sorts. I wake myself up with long, hot showers and then do my hair and make-up in the bathroom to get ready for my day. My night-time routine consists of washing my face, taking care of my basic hygiene and unwinding. Not to mention all those moments we girls spend together in bathrooms – giggling and gossiping about boys. I'm surprised we aren't in the bathroom for decades!
(Para mí, el baño es un refugio seguro. Allí, me despierto con unas duchas largas y calientes, y luego me arreglo mi pelo y me maquillo para prepararme para el día. Mi rutina de noche consiste de lavar mi cara, mantener mi higiene básica y relajarme. No olvida todos los tiempos que nosotras chicas gastamos juntas en los baños – riéndonos y chismeando sobre chicos. ¡Yo estoy sorprendida que no estamos en los baños para décadas!)
So what do I keep handy in my bathroom? I'm not very hard maintenance so a lot of what I have in there is simple but useful. Here is what I consider to be my 5 essential items in the bathroom.
(¿Entonces, que tengo en mi baño? Yo no requiero muchísimo manteamiento por esta razón las cosas que tengo allí son sencillas pero útiles. Aquí tengo lo que yo pienso son mis 5 cosas esenciales.)  
5. Scented Candle.
I am definitely a 'candle person'. I light candles for every occasion (happy days, sad days, wine nights, gym-killed-me night, chocolate nights… really every night…). I love really simple, elegant candles, with an understated floral or fruity smell. They are really a 'must-have' in dark and gloomy England during these bleak winter months. It is really helpful to have a lit candle when you are trying to unwind.
(Soy una persona que le gusta mucho las velas. Tengo una vela encendida para cada ocasión (días felices, días tristes, noches de vino, noches de gimnasio-me-ha-matado, noches de chocolate… casi todas noches…). A mí me encantan las velas sencillas con una apariencia elegante, con un olor delicado de flores o frutas. Las velas son esenciales aquí en Inglaterra, especialmente durante estas noches oscuras durante el invierno.   Ayuda muchísimo tener unas velas cuando quieres quitar el estrés.)
4. Forever Living Products.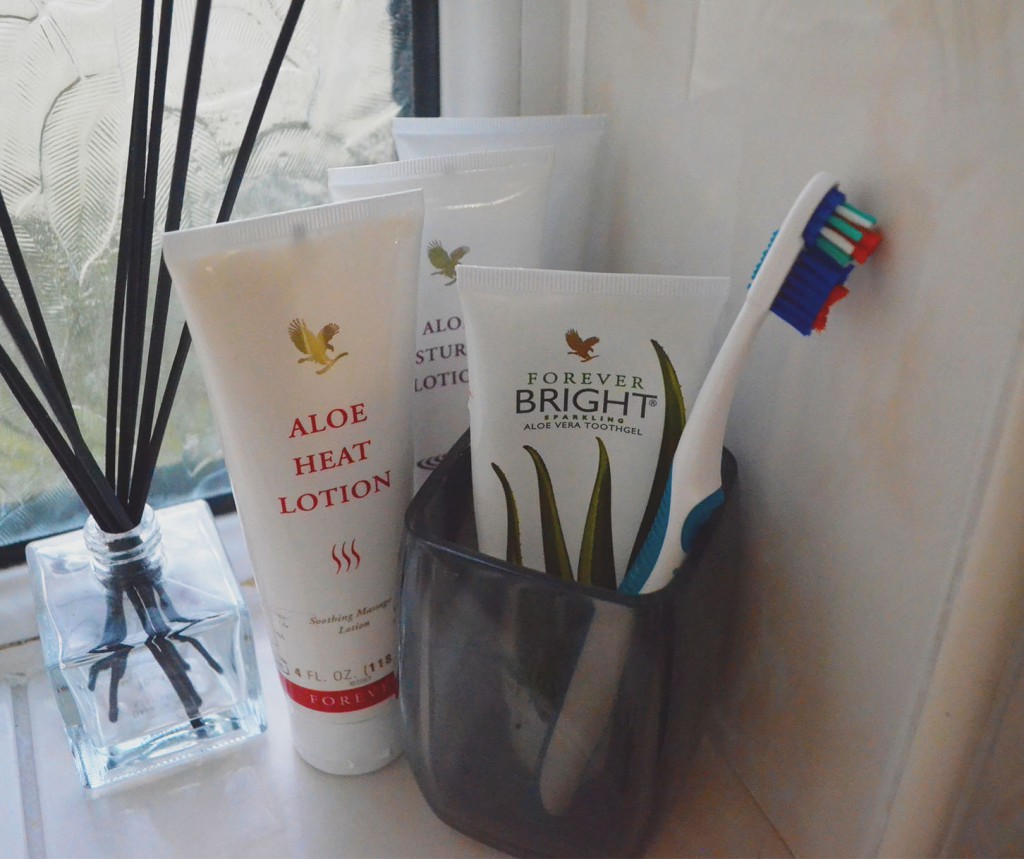 (email me at ana@caffeineberry.com for more info!)
I use loads of products from this line. One of my favorite products is the heat lotion and the toothpaste. I use the heat lotion after hard work outs to relax my muscles and help any aches/pains. The toothpaste is really subtle, and I like the taste. Also, it's really effective at getting my mouth to feel sparkly fresh. I don't know how I feel about it being fluoride-free (as a daughter of a dental hygienist, I know the importance of fluoride for keeping your teeth healthy), but I really do love this product. I genuinely recommend these lotions and toothpaste because are great quality and made with Aloe Vera. We all know the benefits of aloe.
(Uso muchos productos de esta marca. Uno de mis productos favoritos es la loción de calentamiento y la pasta de dientes. Uso la loción después del gimnasio para relajarse los músculos y ayudar a aliviar dolores. La pasta dental es muy sutil y muy efectiva para hacer mi boca a sentir limpia.  Yo no sé qué pienso sobre lo que no tiene florido (como una hija de una higienista dental, yo se la importancia de florido para mantener los dientes sanos), pero me encanta este producto en general. Yo recomiendo mucho estas lociones y pasta dental porque tienen una calidad muy alta y por qué están hechas de aloe vera. Todos nosotros ya sabemos los beneficios de aloe.)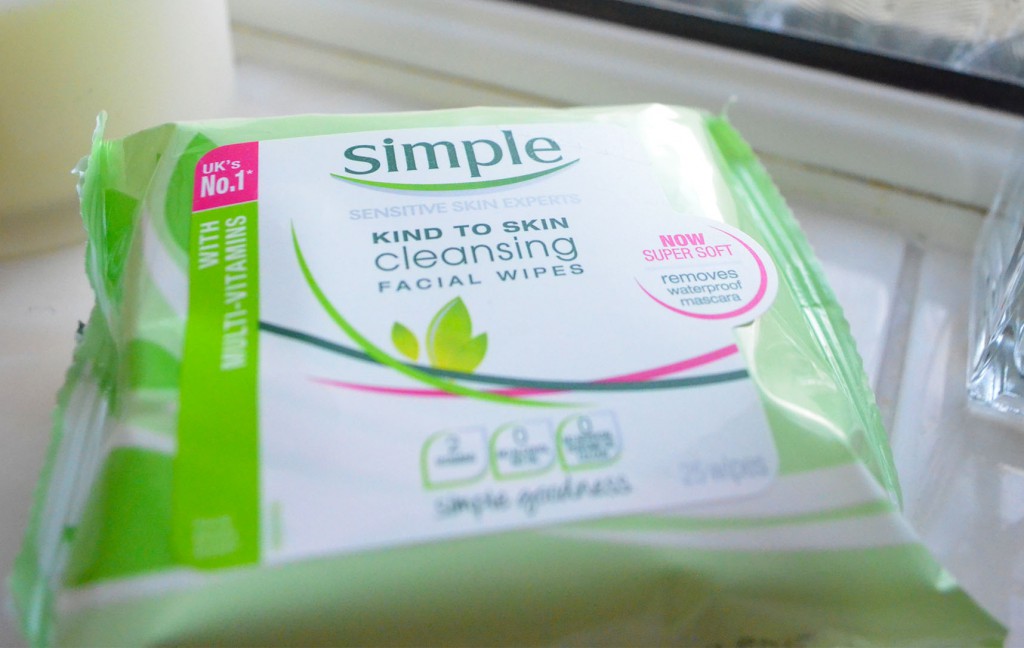 Even though I am in the bathroom for what seems to be an exorbitant amount of time each day, I seem to often forget to wash my face at night. It's a lazy thing. In order to make washing my face as easy as possible, I started using face wipes a while back. Having these wipes easily available are a must, because my skin is easily prone to breakouts. What I like about these wipes is how affordable they are, but also that they do such an effective job removing all my make-up. They even take off my waterproof mascara!
(Yo sé que parece que estoy en el baño para demasiado tiempo todos los días, yo, muchas veces, olvido de lavar mi cara por las noches. Es una cosa de pereza. Para hacer la acción de lavar mi cara lo más fácil posible, he empezado de usar toallitas faciales. Tener las toallitas disponible es esencial, porque si no, mi piel va a tener un brote de acné rápidamente. Lo que me gusta es que estas toallitas son muy baratas y también hacen un trabajo eficaz de quitar todo mi maquillaje. ¡También se quitan mi mascara impermeable!)
2. Murad Blemish/Acne Control Kit.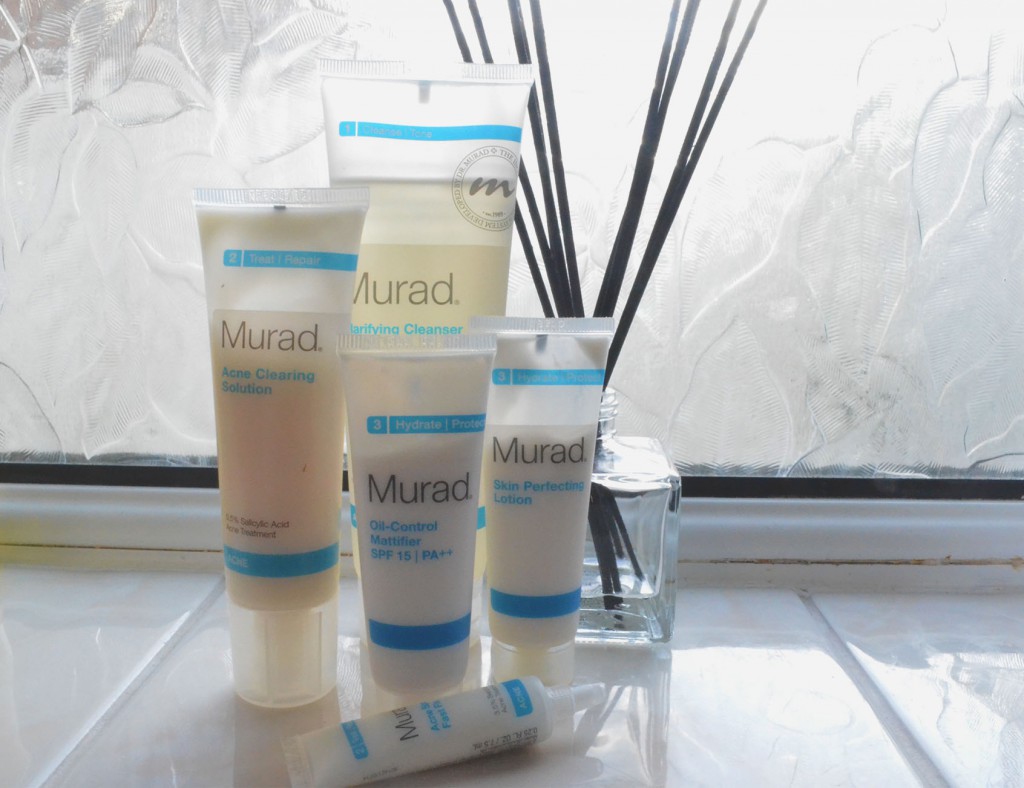 Acne is something that I have struggled with literally all my life. I have tried everything. I repeat… EVERYTHING. Only extreme measures have worked so far for me (i.e.: Accutane). But after a few years, the breakouts return and I'm back to where I started. Recently, my mom bought me some Murad acne treatment, and it has been so helpful at keeping my breakouts under control. It hasn't stopped them completely, but overall, I feel like the intensity of the breakouts have decreased. In addition, I get extra protection with the sunscreen and the SPF 15. I love it because the sunscreen is not oily or greasy and leaves my skin feeling moisturized. I realize in England, there isn't much sun to protect myself from, but it is still important – UV rays still can damage your skin, even in cloudy climates.
(Yo estoy luchando contra acné casi para toda mi vida. He probado todo. Digo… TODO. Solo tratamientos extremos me han ayudado (por ejemplo, Accutane). Pero después de algunos años, mis brotes de acné han vueltos y estoy otra vez al inicio. Recientemente, mi mama me ha comprado unos productos de Murad, y está muy útil para controlar mi piel mejor. No ha parado los brotes completamente, pero sobretodo, yo siento como la intensidad ha bajado. Adicionalmente, la loción tiene protectora solar. Me encanta esta loción porque no siente como grasa y mi piel siente hidratada. Me da cuenta que vivo en Inglaterra, y aquí no hay mucha sol, pero esto todavía muy importante – rayos uv todavía pueden dañar el piel, da igual si hay nubes.)
1. Perfume.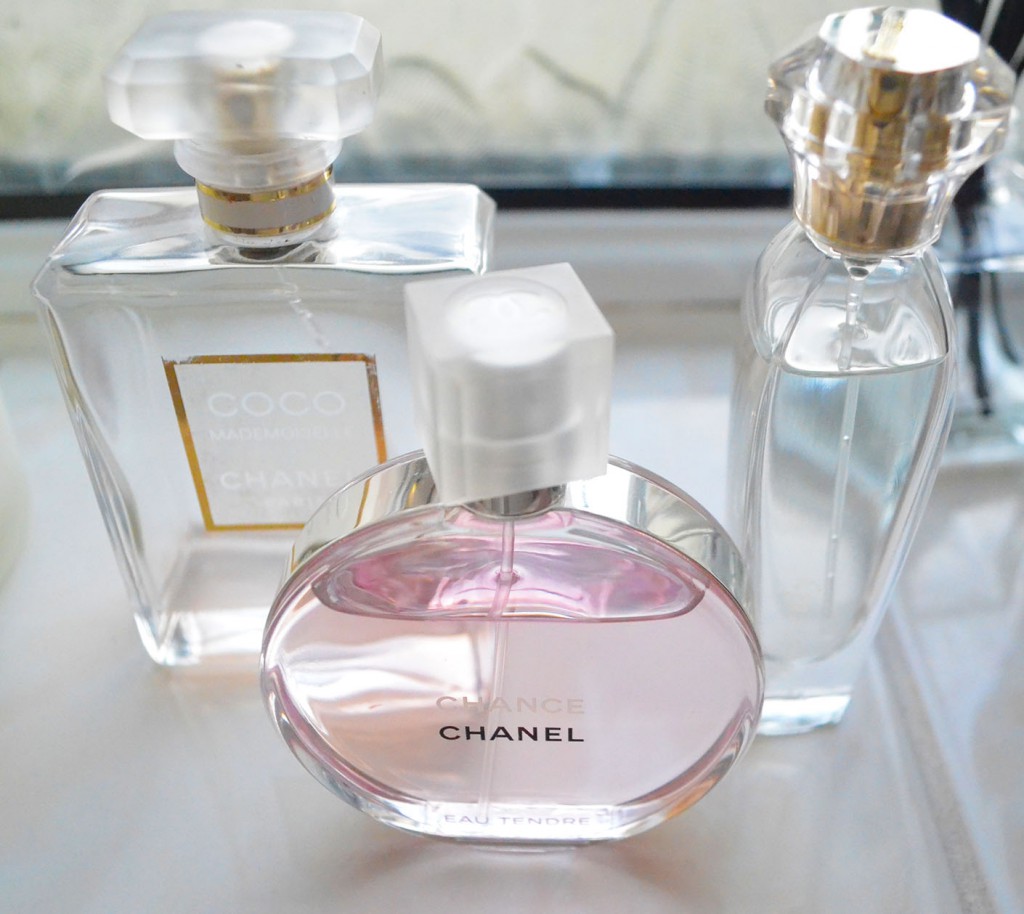 Perfume is my favorite thing in my bathroom. I try to wear perfume every day. It makes me feel more elegant and confident. My perfume style is very classic. I absolutely love Chanel. While some of the classic Chanel perfumes smell a little old-fashioned and extremely strong, I love some of the newer scents, especially since they have the hints of florals that I'm so crazy about. I also have a small bottle of a Victoria Secret perfume, and that is also one of my go-to bottles for when I need to refresh.
(Los perfumes que tengo son mis cosas favoritas en mi baño. Intento llevar perfume todos los días. Me hace sentir muy elegante y confiada en mi misma. Mi estilo de perfume es muy clásico. Me absolutamente encanta Chanel. Aunque algunos perfumes de Chanel huelen un poco anticuados y muy fuertes, me encantan los olores más recientes, especialmente porque tienen toques florales que me vuelvan loca. Yo también tengo una botella pequeña de Victoria Secret, y esto también uso frecuentemente para sentirme más refrescada.)
What are your five most essential items that are in your bathroom?
(¿Cuáles son tus cinco cosas más esenciales en tu baño?