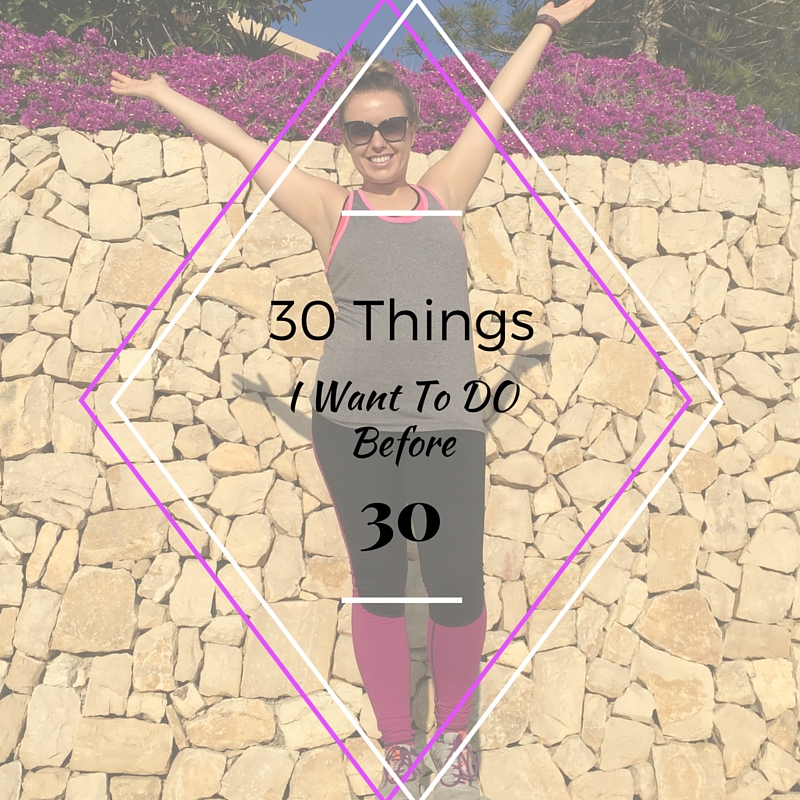 After turning 27, the realization that I will be 30 in 3 years hit me hard. Obviously, there is nothing wrong with turning 30 – In fact, it's a new adventure. I think it's around this time when people in their 20's start having their quarter-life crisis. For me, it made me think about all the things I've accomplished (which are quite a few!) but also the things I have yet to do. I decided to make a list of the things I really want to do in the next few years. Not all are feasible before turning 30, but I am always for dreaming big. Here is my list:
(¡Para español, mira abajo!)
30. Hike a 14er
29. Learn to play guitar
28. Make a contribution to science
27. Publish something
26. Visit Thailand
25. Help someone in a significant way
24. Witness a sunset at Angkor Wat
23. Stand in front of the Blue Mosque in Istanbul, and then, enter.
22. Discuss world peace with a celebrity
21. Run a 10k race in an important city… (Madrid?)
20. Complete a triathlon
19. Get Scuba certified
18. Participate in a political protest
17. Learn to make Tiramisu
16. Be somebody else's boss
15. Get Yoga instructor certified
14. Visit any African country
13. Visit Brazil
12. Visit New Zealand
11. Bring Nala to the UK
10. Adopt a furry sibling for Nala
9. Obtain a British driving license
8. Go on a week volunteer mission
7. See 'The Starry Night' in person
6. Explore Barcelona
5. Buy an expensive piece of furniture
4. Read 5 classic Russian novels, in Russian
3. Revisit learning Portuguese and Italian
2. Have a solid savings account (with £1000+)
1. Be able to run a half marathon without stopping
What's on your bucket list for the next milestone birthday?
~~~
30 Cosas Que Quiero Hacer Antes De 30
Después de cumplir 27, me he dado cuenta que tendré 30 en 3 años. Obviamente, no hay nada de malo en cumplir 30 – al revés, es una aventura nueva. Yo creo que durante esta época cuando la gente en sus 20s empiezan tener la crisis de su "cuarta-parte de vida", como decimos en ingles. Para mí, esto me hace pensar en todas las cosas que he realizado (¡y hay muchas!) pero también en las cosas que todavía no he hecho. He decidido hacer una lista de las cosas que quiero hacer en los próximos años. Yo sé que no todas son posibles antes de cumplir 30, pero me gusta soñar en grande. Aquí esta mi lista:
30. Subir un 4 mil
29. Aprender como tocar la guitarra
28. Contribuir a las ciencias
27. Publicar algo
26. Visitar a Tailandia
25. Ayudar a alguien en una manera significante
24. Ser testigo a una puesta de sol en Angkor Wat
23. Pararse frente de la Mezquita Azul en Estambul, y luego, entrar
22. Hablar de paz mundial con una celebridad
21. Correr un 10k carrera en una ciudad importante… (Madrid?)
20. Acabar un triatlón
19. Recibir la certificación de Scuba
18. Participar en una protesta política
17. Aprender como hacer Tiramisú
16. Ser la jefa de otros
15. Recibir certificación para enseñar Yoga
14. Visitar cualquier país Africano
13. Visitar Brasil
12. Visitar Nueva Zelanda
11. Traer Nala a Inglaterra
10. Adoptar un hermanito peludo para Nala
9. Obtener una licencia de conducir en el Reino Unido
8. Ir para una semana a hacer una misión voluntaria
7. Ver 'La Noche Estrellada' de Van Gogh en persona
6. Explorar Barcelona
5. Comprar un mueble caro
4. Leer 5 novelas clásicas rusas, en Ruso
3. Revisita aprender Portugués y Italiano
2. Ahorrar dinero significante (£1000+)
1. Poder correr un medio maratón sin parar
¿Qué tienes en tu lista de cosas para hacer antes de cumplir tu próxima década?