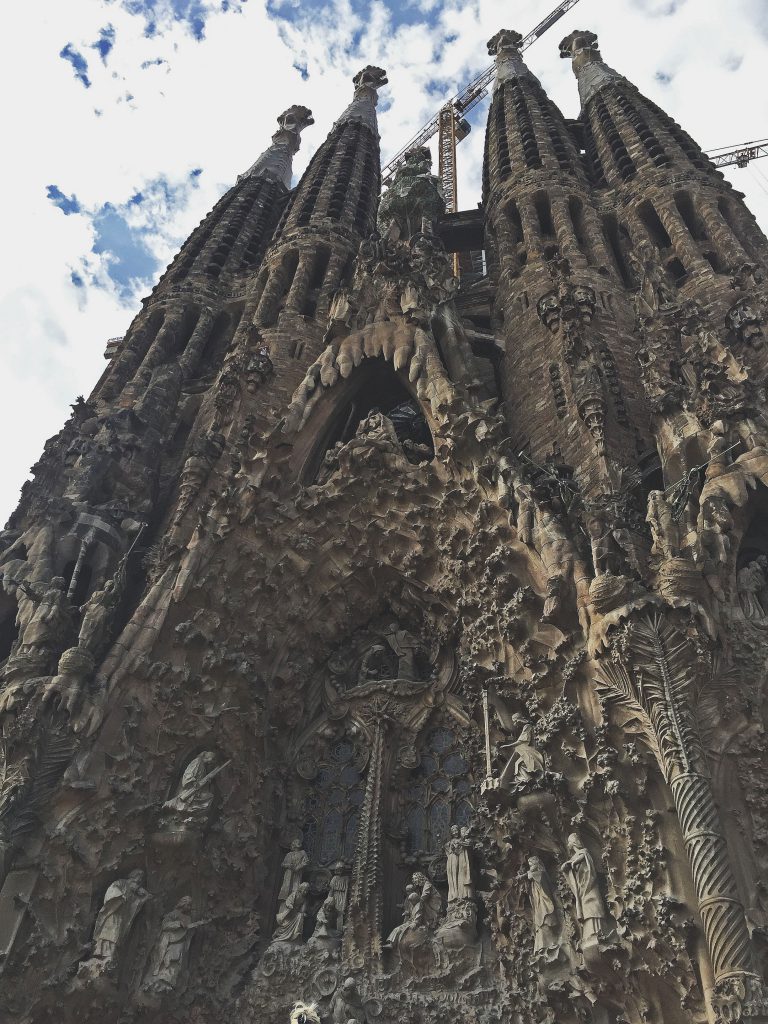 A rock pile ceases to be a rock pile the moment a single man contemplates it, bearing within him the image of a cathedral.
– Antoine de Saint-Exupery
Continued from Part I…
The following day, I decided, was THE day. You know, the kind of day that you have to start off with intentional positivity, because you have a situation you need to reverse. Despite my experience with the restaurants and overall 'meh' feeling from the previous evening, I wanted to give this city a clean slate. I had only seen a small fraction of Barcelona, and we had a full day ahead of us.
We started it by heading to the subway. We went directly to the Sagrada Familia barrio. When I stepped out of the station, D told me to look up.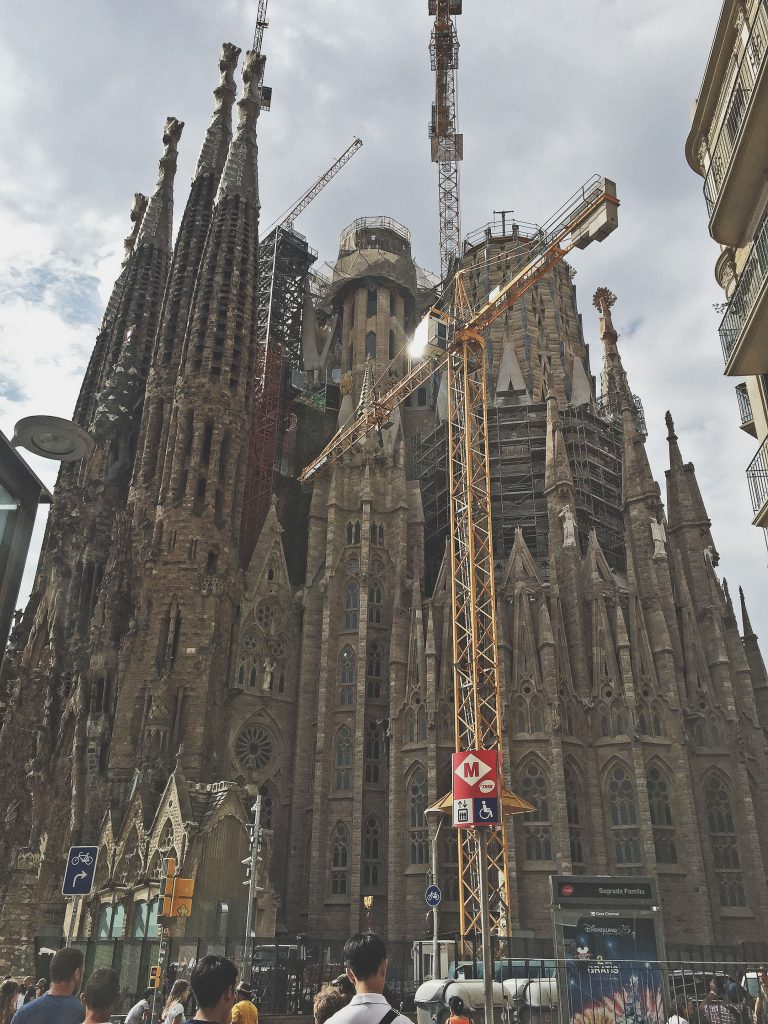 I was standing at the base of one of the modern wonders of the world (or at least, of my world). It was surrounded by cranes, tourists and lots of movement, but somehow, it didn't detract from its beauty. The Sagrada Familia left me in awe. How can humans build something like this?
After collecting my thoughts, I realized we still needed to eat breakfast. The plan was to eat at a café near the cathedral, and this time, we made sure to look at reviews in TripAdvisor. Paisano Café was the winner, and it did not disappoint!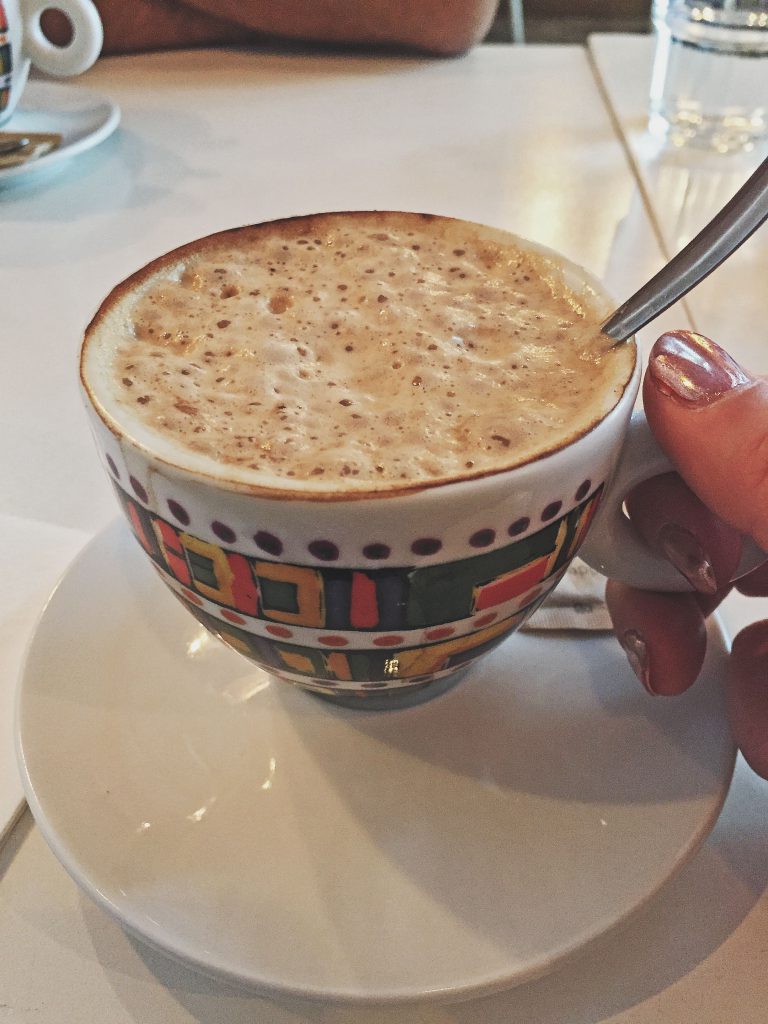 I had a 'tostada con jamón y tomate' (or ham and tomato toast) and an amazing coffee. It was a simple and delicious breakfast and we were greeted with so much warmth and great service! Honestly, if you are looking for a breakfast recommendation near the Sagrada Familia, I would recommend them. They didn't have gluten-free friendly meals, but I accepted the fact I would possibly have to be more flexible on what I ate whilst in Barcelona. A lot of places in Spain are only starting to catch on to food allergies and intolerances.
After breakfast, it was finally the hour to come face to face with my favorite architectural treasure in the world. Tickets in hand (purchase tickets to the Sagrada Familia here! ), D and I lined up to enter. I highly recommend doing the audio tour of the building. There are so many details you will miss if you don't take the time to listen about the background!
The tour started at the nativity facade. This entrance is where it all begins. Nativity means the occasion of someone's birth, in this case, Jesus Christ. The portico is extremely impressive, with many important Christian figures decorating it's massive entries. There are three, to be exact, and they represent Faith, Hope and Charity. Additionally, there are four extremely impressive bell towers that spring out of the facade. We were actually going to go up one of them, in addition to explore the cathedral base!
The interior of the cathedral was just as breathtaking as the exterior. I managed to cramp my neck by staring up at the ceiling. What truly surprised me about this building was how light and airy it felt. I'm familiar with a lot of cathedrals around Europe, especially in the UK, and they are usually very dark, damp and cold.
The Sagrada Familia was a game of light. On the Nativity side, the stained glass was a warm, orange hue, to represent the morning or birth. On the Passion side, the colors are blue and green, representing nightime, or death.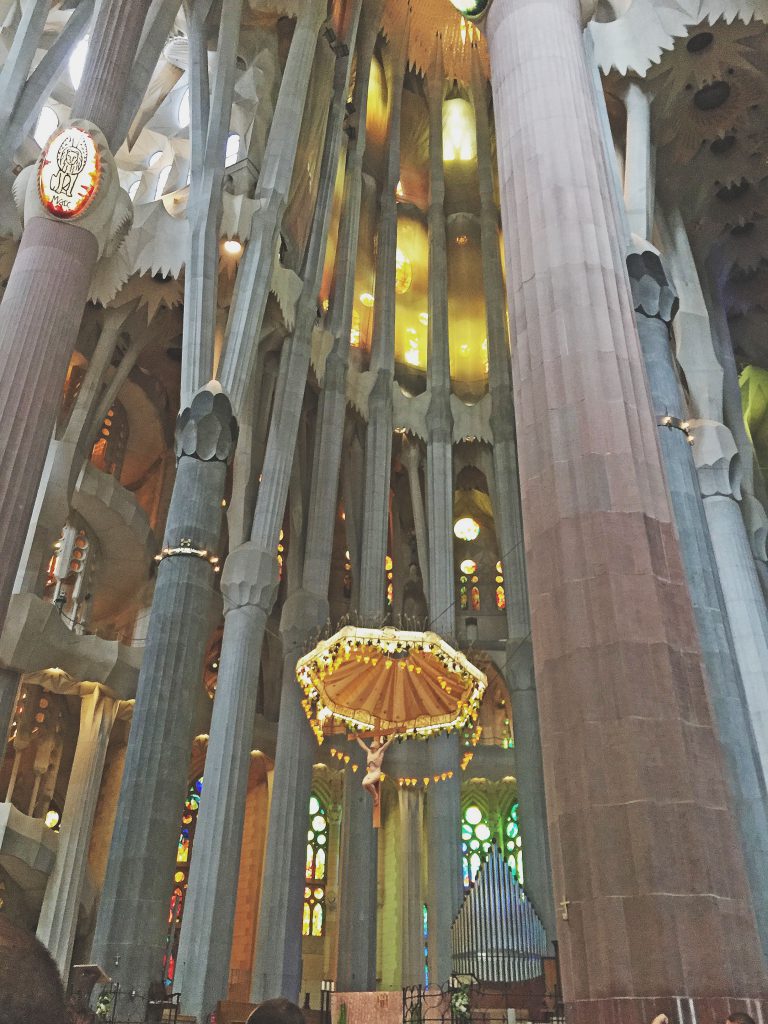 The Sagrada Familia truly felt like a sacred space to me. There was so much beauty, peace and inspiration in that place. I couldn't help myself but go to the prayer chapel. I got on my knees, took in the incredible atmosphere and then just let go. I've had so many things on my heart, and it was such an incredible honor to pray to God surrounded by such awe-inspiring beauty.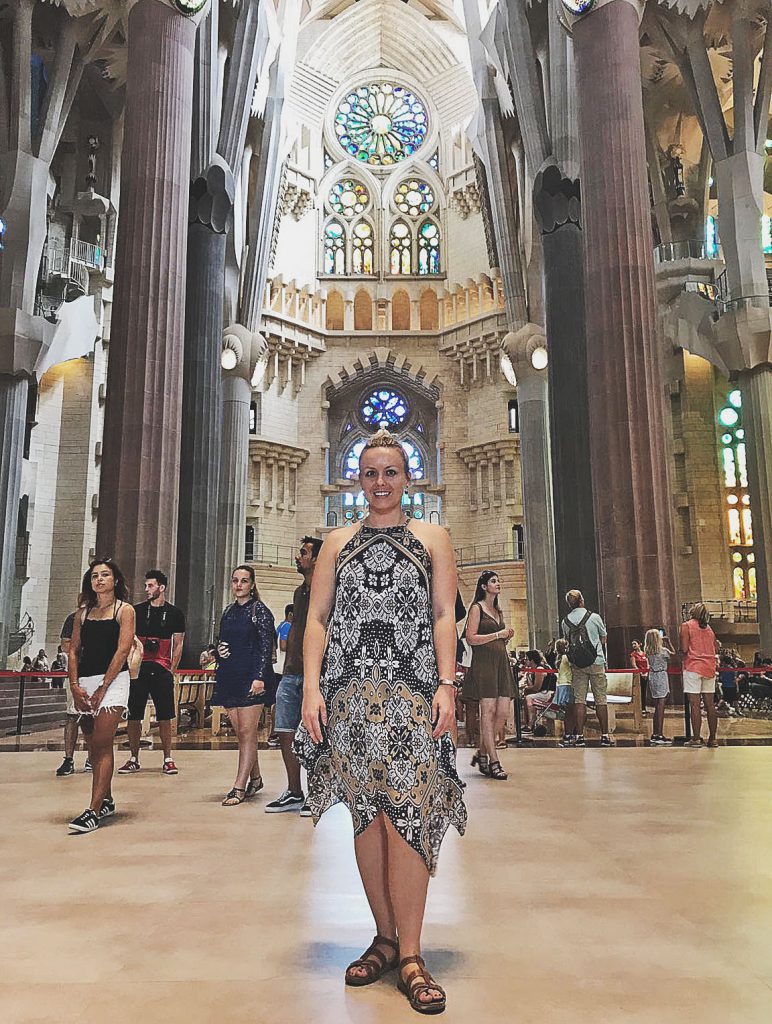 It was finally our turn to go up the towers. Surprisingly, we did not have to climb many stairs. There was a lift that took us straight to the top. From there, we could see that there was still a lot of construction going on, but also, we saw the most beautiful view of Barcelona. It's easy to forget just how big Barcelona is when you're walking in the streets, but from this vantage point, it seemed endless.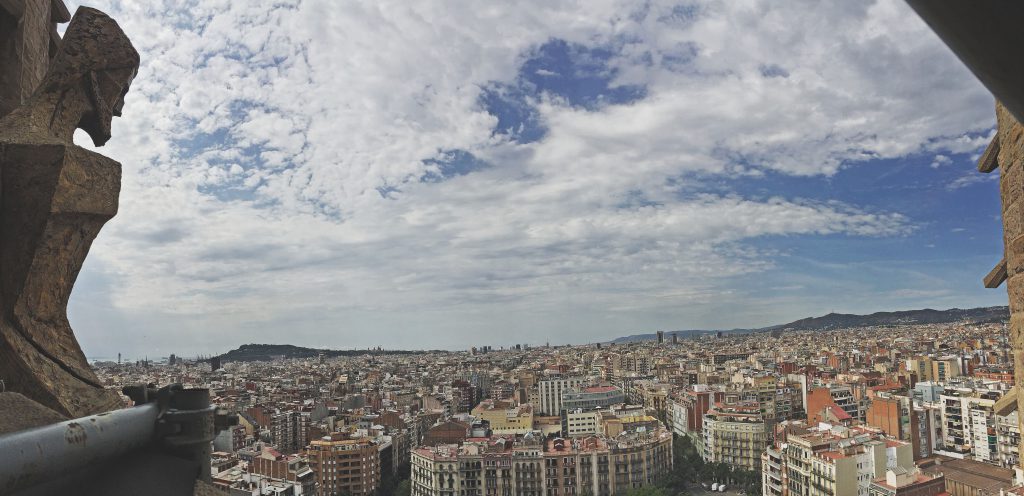 Additionally, we were able to see some of the other major elements up close. The grapes and wheat are a common motif in the exterior of the building, and they symbolize the Wine and the Bread.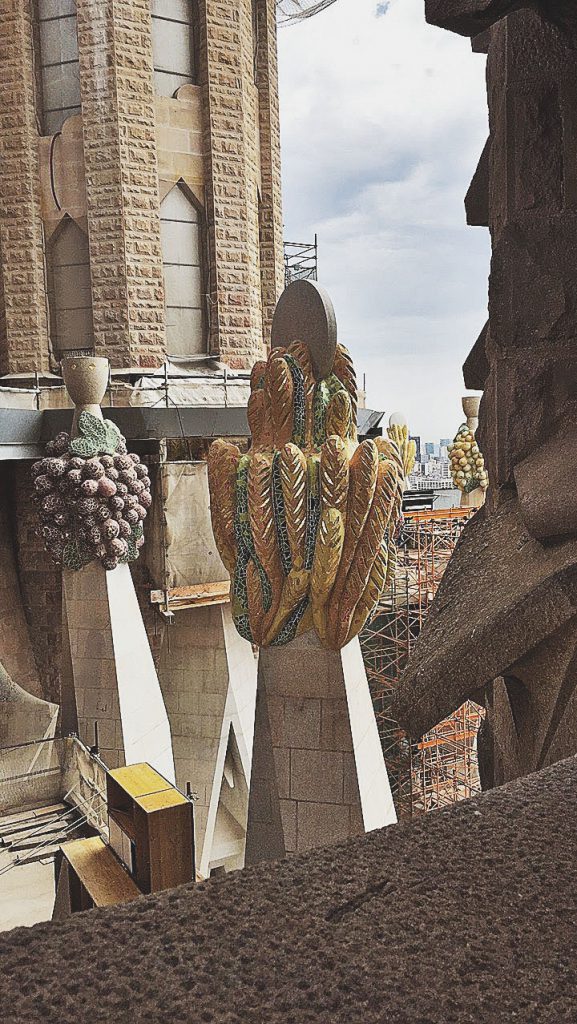 The building is still a construction site. We were told that the cathedral is to be completed around 2026-2028. I think I'm going to make it a goal of mine to make it back to Barcelona for this special event. Although I've seen it mostly completed now, I wonder how much will change in 10 years.
When we were finally ready to exit, I was taken aback at how different the facade was to the entry. It was so much more austere and simple – appropriate for a funeral. It is beautiful in its own way. There isn't any room for fuss. It is just the way it was.
There were a couple interesting details on this side. Gaudi's face is on one of the statues, and a someone is holding something called the Santa Faz (or the Holy Face). This is said to be Jesus' burial shrouds, with his face mark. Touches like these are highlighted easily, because of the austerity and sobriety. The Passion of Christ is arguably one of the most influential, important, painful and controversial moments of history. Gaudi truly captured the pain and suffering through incorporating bone and muscle motifs on this side.
I could write about this cathedral and the impact it had on me for days. I will leave you with this: after a not-so-impressive first night in Barcelona, the Sagrada Familia gave me a more cheery perspective. Not only was this beautiful work of art built in honor of my Jesus, but I was so encouraged, at peace and ready to tackle the next adventure after having spent only 2 hours there. Cathedrals were built with the intention of driving our attention towards Heaven while simultaneously creating a soothing and peaceful atmosphere.
The Sagrada Familia was an experience not easily forgotten, but there was yet more to see…
Keep your eyes peeled for the next part!